Sunday, August 2, 2020
Friday, July 31, 2020
Thursday, July 30, 2020
Monday, July 27, 2020
Sunday, July 26, 2020
Friday, July 24, 2020
Thursday, July 23, 2020
Wednesday, July 22, 2020
Tuesday, July 21, 2020
Monday, July 20, 2020
Sunday, July 19, 2020
Sunday, July 12, 2020
Saturday, July 11, 2020
Wednesday, July 8, 2020
Tuesday, July 7, 2020
Sunday, July 5, 2020
Saturday, July 4, 2020
Sunday, June 28, 2020
Thursday, June 25, 2020
Wednesday, June 24, 2020
Tuesday, June 23, 2020
Monday, June 22, 2020
Sunday, June 21, 2020
Saturday, June 20, 2020
Monday, June 15, 2020
Sunday, June 14, 2020
Thursday, June 11, 2020
Tuesday, June 9, 2020
Wednesday, June 3, 2020
Sunday, May 24, 2020
Friday, May 15, 2020
Wednesday, May 13, 2020
An everyday story of country folk
How can it be a whole week since I last wrote anything here? How?
Missing in action, just like the other country folk. Is anyone actually listening to the repeats? I can think of little more insensitive in the current situation than re-broadcasting Joe Grundy's funeral, as they did last Friday.
Here's one of the local hares at the top of the track a couple of days ago.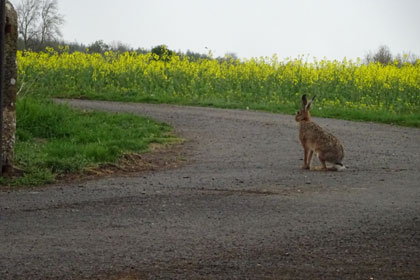 He likes salt - being used to kill the grass in the tarmac. I don't expect hares have high blood pressure, so it's probably OK. Not a great picture, as it was taken hastily, through a window.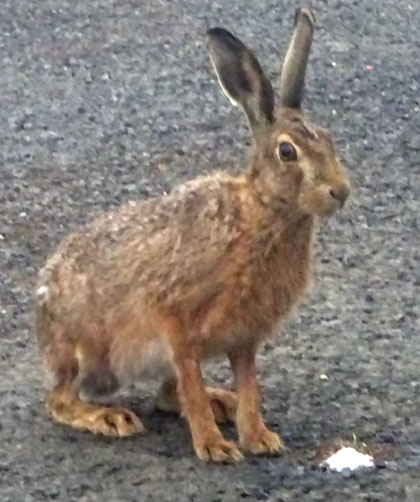 Mr BW had to rescue a pair of house martins from the kitchen. They flew in as I went out.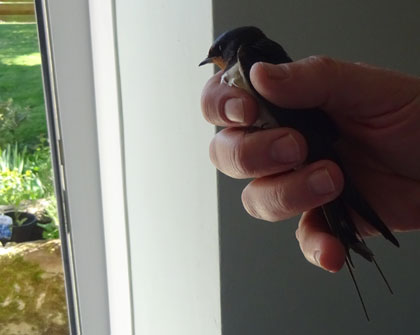 We've been busy. Doing lots. Have got as much done as we'd probably have got done by the FOTCR™ (is that the earliest ever mention in the year of that?). Because - well, what else have we had to do?
Day 50 of not going out at all, but having it all brought to us.
We haven't yet found anything that can't be delivered, other than shopping for the first few weeks, but it's OK now. Morrisons pop by every 10 days, and bring our groceries from Scotland. From a store 50 miles away, which is an hour and a half each way by road, even though there is a large store that does online less than half this distance from us. The delivery men tell me that they are all furloughed from a 'manufacturing plant' there, and are 'making up their money' by driving round the countryside in rented freezer vans. I have no idea why the cheapest slots are at 9 - 10pm, when they have then to get back to Scotland, clean out the van, and be ready to start at 7am again. But, that's how it is. They're happy, and I'm happy, so all is well.
I'm not sure that people should be able to take the taxpayers' 80% furlough money and work another paid job though.
Not the normal standard of grocery delivery, everything is all muddled up in the bags, and it's often one item per plastic bag, which they're not currently charging for (so we have built up our stocks again, most useful, but I wouldn't choose to have them, or pay for them), and the temporary delivery men have little idea of safe distancing, but it's food. And drink. And it doesn't involve any effort, or any risk. Mind you, our grocery bill is probably double what it normally is when I shop in my usual haunts of Aldi, Waitrose, and Costco.
The Amazon delivery man yesterday tentatively enquired if he could ask me something. I looked a bit surprised. "I hope you don't mind, but the lads in the depot want to know if you've won the lottery or something... all these parcels we're delivering to you...?" I explained that we'd moved in 10 days before lockdown and had just 2 van loads of stuff to our name, and a whole house to renovate and a garden to redesign.
I resisted the temptation to tell him that the single pack of 100 treasury tags that had been delivered on a recent Saturday, and the one rubber wedge doorstop that had been delivered at 8.48pm last Sunday night were not what *I* would call 'essential' items, but, if Prime say they are, and will send someone to bring them 30 miles from the nearest depot, on a weekend, then I'm not going to argue.
I have no idea how they define 'essential', but the delivery of other items is getting slower and slower. Often stuff not dispatched by Amazon is coming much more quickly. If you use Amazon Prime, is it the same where you are?
Anyway, now that we can get down south again - actually, we could have before, as we have a special 'movement to tend to livestock' permit as b33keepers, but we didn't want the potential hassle of being stopped and questioned - we're off at the end of the week. Just for a few days as we have decided to turn our 2 - 3 year Move North Project into a much quicker one, and so spend more time up here. And we have hopefully got the plasterer coming mid-week next week to put some walls back on upstairs, and add some internal wall insulation.
Everything that Mr BW does has been cancelled or can be done remotely, and my groups and other ventures probably won't start again any time soon. It's been so lovely to be away from the ever-increasing road noise (a by-pass built a mile away has got much busier, so noisier, over the 20 years since it was built), aeroplane noise (runways were re-routed over us on a technicality, so without the need for formal consultation, 4 years ago), pollution, noisy/sweary newish neighbours, constantly barking dogs, and the constant threat of developers (of gypsy origin, so you can imagine the rest) on our doorstep, that there is little point in prolonging The Southern Chapter. It was once a rural idyll, but it has fast become full of selfish moneyed escapees from London who haven't a clue about country life or country values.
Our major delivery for today was a proper farmers' trailer. Seven feet by four feet. With livestock sides. Which will pay for itself in the first 4 times we don't hire a van, and can be towed by the Blue Broom, which has a tow bar as it is used to towing Bri@n. And we'll have it to use forever afterwards.
We looked at cheaper ones, but, to be proper country folk we need the proper - branded - kit.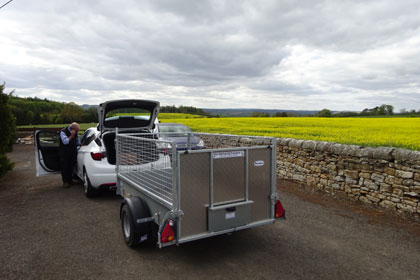 No, you don't believe that of me, do you? :)
So, rather, there was a suitable trailer available immediately within Bernard The Farmer's recommended agricultural suppliers' group (although they had to fetch it from their Scottish branch), whereas anything cheaper has yet to be built, and would be at least 8 weeks. And it was fetched and towed to our door for us by the depot manager (pictured).
"I blame the Chinese for all this nonsense!" he said. So, that's him, Donald Trump, and me, then. Amazing how the rest of the world aren't asking enough questions. Chris Patten (last British Governor of Hong Kong) had some very sensible things to say on that subject when interviewed on Radio 4 this morning.
I've given up following the subject in any detail. I'd rather be putting my limited energies into working on this house than into a politician and media-managed charade. Brexit Mach 2. I only catch little snippets of news, and no longer religiously listen to broadcasts. The rest of the world is laughing at us. Matt Hancock seems to have been left to be the public face. But, where's Priti Vacant? And where's Govey Govey Govey? And where's Boris 'Won't Use a Condom' Johnson? Perhaps he has some kind of post-viral syndrome? That's a huge ticking time bomb that no-one has thought about yet.
I check all my facts here now, and that, together with their regular emails, summarises all the nonsense that is being spouted/spread on social media, and what is and isn't factually correct.
The tomato plants that came up here as tiny inch high seedlings 7 weeks ago have enjoyed being in the conservatory so much that they are now 18" tall (some even have flowers), and half of them need to go back south, together with some of the peppers, chillis, squash and courgettes. We have auto-watering systems at Coven Sud, so everything can grow away in the greenhouses and polytunnels while we are working up here, and be harvested when we go down to bring up some more stuff.


Odd picture, but it wasn't taken for display, just for posterity! The back of my spinning chair (carved by Mr BW several years ago), some paperwork, the new hen drinker in the background outside - why do things always break at the least opportune moment?
What news from your corner of the world?
Wednesday, May 6, 2020
Tuesday, May 5, 2020
Monday, May 4, 2020
Saturday, May 2, 2020
Friday, May 1, 2020
Thursday, April 30, 2020
Wednesday, April 29, 2020
Tuesday, April 28, 2020
Monday, April 27, 2020
Sunday, April 26, 2020
Friday, April 24, 2020
Thursday, April 23, 2020
Wednesday, April 22, 2020
Tuesday, April 21, 2020
Tuesday, April 14, 2020
Sunday, April 12, 2020
Saturday, April 11, 2020
Friday, April 10, 2020
Wednesday, April 8, 2020
Monday, April 6, 2020
Sunday, April 5, 2020
Saturday, April 4, 2020
Friday, April 3, 2020
Thursday, April 2, 2020
Wednesday, April 1, 2020
Tuesday, March 31, 2020
Monday, March 30, 2020
Sunday, March 29, 2020
Saturday, March 28, 2020
Friday, March 27, 2020
Thursday, March 26, 2020
Wednesday, March 25, 2020
Monday, March 23, 2020
Sunday, March 22, 2020
Saturday, March 21, 2020
Friday, March 20, 2020
Thursday, March 19, 2020
Wednesday, March 18, 2020
Tuesday, March 17, 2020
Monday, March 16, 2020
Saturday, March 14, 2020
Friday, March 13, 2020
Wednesday, March 11, 2020
Sunday, February 2, 2020
Thursday, January 30, 2020
Monday, January 27, 2020
Sunday, January 26, 2020
Friday, January 24, 2020
Monday, January 20, 2020
Saturday, January 4, 2020
Tuesday, December 31, 2019
Thursday, December 26, 2019
Wednesday, December 25, 2019
Tuesday, December 24, 2019
Sunday, December 22, 2019
Wednesday, December 11, 2019
Friday, December 6, 2019
Tuesday, December 3, 2019
Friday, November 29, 2019
Thursday, November 28, 2019