Wednesday, October 19, 2016
Tuesday, October 11, 2016
Friday, October 7, 2016
Darkening days need creativity
I've been making a sheep cushion for our Northumbrian farmer friend, who we'll be seeing again in a few weeks, as is normal for us at this time of year.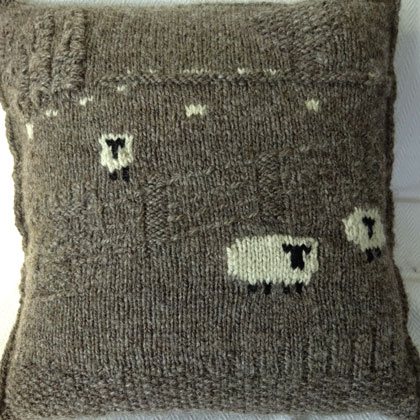 The brownish colour is from a special (to him) sheep's fleece. I've processed the fibre from raw, including washing, carding, spinning, and knitting, and I designed it on (special, knitters') graph paper first, using specific stitches to generate texture to represent the environs of the farm.
It's a bad photo, but, top left is fir trees, top right is a huge old oak tree; middle ground left is drystone wall and then running across the centre to the right is a wooden posted fence; the near-ground is scrubland and reedy grass.
It probably took around 50 hours from fleece to product. He won't know or appreciate it, and I fully expect one of the sheep dogs to destroy it within minutes after he puts it in his mobile home 'office'.
I don't care, it's all about the process, and the meanings, for me.
I may make another for me, with a dark blue background (I've been processing some beautiful Jacob shearling that was given to me, on the lawn in the wonderful golden autumnal sun this week, and now just need to dye, card and spin it). Have I ever mentioned how much I hate brown?
Monday, October 3, 2016
Friday, September 30, 2016
Sunday, September 11, 2016
Wednesday, August 24, 2016
Thursday, August 18, 2016
Tuesday, August 16, 2016
Sunday, August 14, 2016
Saturday, August 13, 2016
Friday, August 12, 2016
Tuesday, August 9, 2016
Monday, July 25, 2016
Wednesday, July 13, 2016
Monday, July 11, 2016
Wednesday, July 6, 2016
Friday, July 1, 2016
Thursday, June 30, 2016
Wednesday, June 29, 2016
Tuesday, June 28, 2016
Monday, June 27, 2016
Friday, June 24, 2016
Tuesday, May 10, 2016
Tuesday, May 3, 2016
Tuesday, March 1, 2016
Thursday, February 25, 2016
Wednesday, February 24, 2016