Tuesday, February 9, 2016
Monday, February 8, 2016
Sunday, February 7, 2016
Friday, February 5, 2016
In wine country

Perhaps surprisingly, this air-cooling ice-filled suspended balloon structure was not a feature of the fun, wine-filled Abba- and Gloria Gaynor-fest that we attended last night (first time I've ever seen five grand's worth of 'product' in a 'bathroom', and, had I known that they ran a hugely successful hairdressing and spa business in Switzerland, I might have been less confident in my rub-and-go hairstyle and minimal blue mascara look), but a cooling device in the 8 acre garden of Babylonstoren, a delightful organic and biodynamic principled garden in a vineyard that we visited (again) today.
We had an interesting and informative garden tour (with nibbly samples of things growing all the way around) with a stand-in guide as the usual bra-less wonder (having now experienced temperatures in the mid-30s or above for the past 10 days, I can understand exactly why she does it) was unfortunately sick. I won't tell you that Mr BW was disappointed, because he'll probably deny it.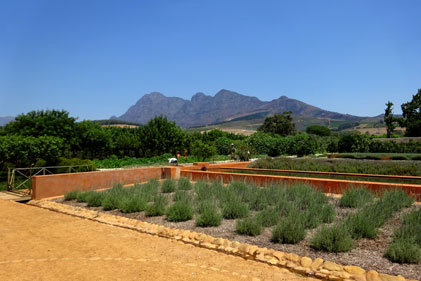 This year, though, we knew about it, and Mr BW booked a table in the award-winning restaurant the requisite two months ahead.
Fabulous meal (I've never seen Mr BW defeated before the dessert course before, but he ordered the chicken and got a whole, full-sized dissection), with all fruit and vegetable ingredients grown in the garden.
The Red Starter (more than a meal in itself, but no-one told us, and we'd ordered mains too and didn't like to disappoint):


The Green Starter: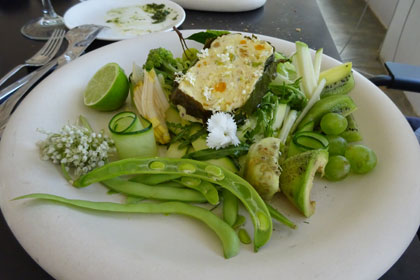 The two courses, with appetisers, cocktails and delightful refreshing natural iced 'teas' we had were so large that we had to go home and sleep for two hours afterwards. In the UK you'd get a bill for at least a hundred pounds for food and drink of a similar quality at a similar establishment. The damage here? £35 including a generous tip.
Tomorrow we're off early to an excellent craft and food market, and then to the summer wine festival here. We've been given free tickets. No, I don't know how we manage it either. Everyone is so friendly here.
Thursday, February 4, 2016
Friday, January 29, 2016
Thursday, January 28, 2016
Tuesday, January 26, 2016
Monday, January 25, 2016
Tuesday, January 5, 2016
Monday, January 4, 2016
Friday, January 1, 2016
Monday, December 28, 2015
Saturday, December 26, 2015
Friday, December 25, 2015
Thursday, December 24, 2015
Wednesday, December 23, 2015
Monday, December 21, 2015
Saturday, December 19, 2015
Thursday, December 17, 2015
Tuesday, December 15, 2015
Thursday, December 10, 2015
Monday, December 7, 2015
Sunday, November 22, 2015
Wednesday, November 18, 2015
Friday, November 13, 2015
Thursday, November 12, 2015
Saturday, October 31, 2015
Friday, October 30, 2015
Thursday, October 29, 2015
Wednesday, October 28, 2015
Tuesday, October 27, 2015
Monday, October 26, 2015
Wednesday, October 21, 2015
Tuesday, October 20, 2015
Friday, October 16, 2015
Wednesday, October 14, 2015
Tuesday, October 13, 2015
Monday, October 12, 2015
Sunday, October 11, 2015
Saturday, October 10, 2015
Friday, October 9, 2015
Wednesday, October 7, 2015
Tuesday, October 6, 2015
Monday, October 5, 2015
Sunday, October 4, 2015
Saturday, October 3, 2015
Friday, October 2, 2015
Wednesday, September 30, 2015
Monday, September 28, 2015
Friday, September 4, 2015
Thursday, September 3, 2015
Wednesday, September 2, 2015
Monday, August 31, 2015
Saturday, August 29, 2015
Monday, August 17, 2015
Sunday, August 16, 2015
Thursday, August 13, 2015
Monday, August 10, 2015
Sunday, August 9, 2015
Tuesday, August 4, 2015
Monday, August 3, 2015
Friday, July 31, 2015
Wednesday, July 8, 2015
Monday, June 15, 2015
Friday, June 12, 2015