Sunday, November 29, 2020
Saturday, November 28, 2020
Friday, November 27, 2020
Thursday, November 26, 2020
Tuesday, November 24, 2020
Sunday, November 22, 2020
Friday, November 20, 2020
Thursday, November 19, 2020
Tuesday, November 17, 2020
Monday, November 16, 2020
Wednesday, November 4, 2020
Tuesday, November 3, 2020
Monday, November 2, 2020
Saturday, October 31, 2020
Friday, October 30, 2020
Wednesday, October 28, 2020
Tuesday, October 27, 2020
Monday, October 26, 2020
Saturday, October 24, 2020
Thursday, October 22, 2020
Wednesday, October 21, 2020
Tuesday, October 20, 2020
Monday, October 19, 2020
Sunday, October 18, 2020
Saturday, October 17, 2020
Wednesday, October 14, 2020
Sunday, October 11, 2020
Tuesday, October 6, 2020
Sunday, October 4, 2020
Friday, October 2, 2020
Friday, September 25, 2020
Wednesday, September 23, 2020
Tuesday, September 22, 2020
Monday, September 21, 2020
Saturday, September 19, 2020
Friday, September 18, 2020
Thursday, September 17, 2020
A third thrilling daily episode of BW is solo at Coven North
7.05am That's better, waking up naturally, and, oh joy, it's a beautiful sunny morning. I instantly feel better.
Meanwhile, down South an early morning email tells me that Mr BW was woken by planes soon after 6am. The re-routing of flightpaths (on a technicality, without public consultation) was the major reason (but by no means the only reason) for us needing to escape that part of the country.
I did wake up to hear a 'mouse-like noise' in the lounge/bedroom/control room again in the night, but thought better of allowing The Black Familiar to become an indoor cat, something she has been angling for since 2012. I don't know where the rest of the bumper pack of 100 rat/mouse traps are, and decide that there is definitely more chance of me stepping on it or catching my fingers setting it than there is of catching a mouse. If I see 'tell-tale evidence' anywhere I shall change my mind of course.
7.45am: I take a stroll around outside to take some progress photos and video before the builders arrive. I just couldn't face it last night. I catch The Black Familar jumping off the roof onto the (disintegrating) coal bunker. A millisecond later and that would have been a fabulous flying cat shot.


I stand on the garage back steps and look at the progress on the greenhouse base and wonder how on earth they think it will ever be finished by the end of the week. This was a 9 or 10 day project and we're now half way through week 3.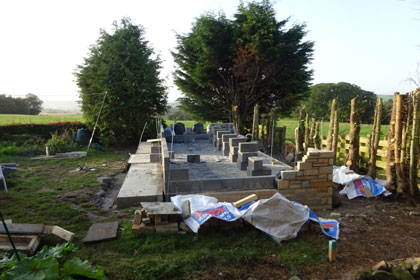 I wander through the garden and come out at the top of the drive.
I am dismayed by the powdered concrete and wheelbarrow tracks all over the tarmaced drive (which is a huge area - big enough to park 30 cars) and, even more dismayed by the mess left just outside the entrance gate after yesterday's (lack of) work by the two who were here. We hadn't really expected that area (which we don't own or have access rights over) to be used at all, but when 15 bulk bags of aggregate, sand, cement and lime mortar appeared there one day we didn't really think about where it could lead. The apprentice was mixing mortar there yesterday. And apparently just tipped the remains of the cement mixer onto the grass at the end of the day. I stuck my finger into the mess and found it was 6" deep.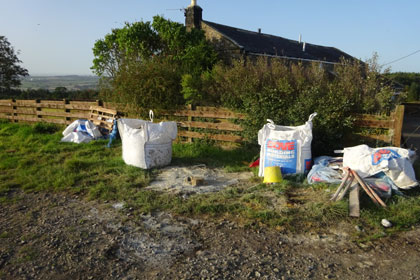 "The day is starting well!" I thought.
A sensible person would have thinned down the remaining concrete mix and tipped it onto the rough track where it could have soaked in and been useful when the wet weather comes. Ah... therein lies the problem, of course.
8.00am: I come up with a cunning plan to get the mess sorted in double quick time. I decide that, in the circumstances, lies are allowable.
It is at this moment that I remember that I left the bath upstairs running, 20 minutes ago.
I have a long history of doing this. Down South it doesn't matter too much as: (a) the bathroom is downstairs, (b) that part of the house has a concrete floor, and (c) the water is unmetered.
I run inside and upstairs.
I slip on the stairs.
I pick myself up.
Luckily the bath is still only half full. The plumber (last week) told me that he hated the new taps I had purchased (levers rather than the existing rounds, which my failing hands couldn't grip or turn) as they were only 10mm and he had to reduce the 15mm pipe into their 10mm pipe, which would make the water flow very slow. I thanked my lucky stars that I had chosen wisely.
8.25am: I was loitering with intent near the gate when the builders turned up. By the time I got to them, they'd already stopped and were looking at the mess. I gestured to them to put down the van window. I heard a muttered, "Uh oh...trouble..." as Deputy Chief Builder zipped down the window.
"Lovely morning!" I said, "You must have had stunning views coming down!" "Ay, we did!" said Chief Builder. "Unfortunately, we have a bit of a problem... [I paused for effect, and to get the lie straight in my head before uttering it] ... I've had a very terse text at 11pm last night - which woke me up, so I wasn't very happy - from the Farm Manager who is VERY unhappy about the mess you're making. He's been up on his ATV [aside - what the locals call what I'd call a 'quad bike') every night when you've gone home surveying what's gone on. Now, I don't want to fall out with him as he controls the water supply. And the minds of most of the locals. So...."
"Ay, we stopped here because we saws the mess!" said Chief Builder. "The lads'll sort it pronto, sorrys like, we needs to be cleaner, it wouldn't have happened if I'd been here yesterday!" "You're making it worse..." I smiled sweetly, "in my experience, when in a hole it's really best to stop digging! And, it's like walking on the moon crossing this driveway..." "Ay, the lads'll brush that up too. Sorrys luv."
9.30am: I had an inspiration. All the mess could be solved if they mixed their concrete near to where they were working, at the far end of the drive, in the farmer's field, but on the land we have rights of access over, at the base of the existing oil tank, on the spot where the new oil tank is to be installed in a few months.
I went out to tell Chief Builder. "Ay, if that's what yous wants luv, that's what wes'll do."
"No, it's not what I want, it's what makes sense for us all, surely, and it gets the Farm Manager off all our backs, and saves a lot of clearing up at the end of the day!"
"Ay, but the sand's still up the drive!"
"Yes, but, given that the lime mortar bags are in the garage, the water source comes from the tap in the garage, you're using the mortar down here, and if something has to be barrowed across the tarmac, isn't it better that it is sand rather than wet mixed cement?"
"Ay, you's got a point luv."
The voice in my head says, "It must be dangerous to have a brain." The voice from my mouth says, "Yes, well, let me just point out exactly where the cement mixer can go, and can you use some of those empty dumpy bags to put under it too, please?" I lead him to a flat grassy spot just off the end of the house. I point assertively. "There, OK, and nowhere else, OK? Right, I'll pop back later to see how you're doing."
10.00am: I'm sitting at my computer, typing away, when my nose detects an odour. I check the bottom of my flip flops. Nothing. I look around, nothing. The odour is very close. I take off my flip flops and sniff. Hmmm. The area where I stood when I was telling them where they could mix concrete has clearly been the place they have been using as a urinal. I sigh, drop them in a bowl outside the back door, add a good splash of bleach and leave them to have a good soak.
No wonder Chief Builder was so reticent to use that spot for concrete mixing.
Sometime around mid-day: I left my phone unattended for an hour. This was unwise.
In this time, Mr BW called twice, to say that the very expensive electrician he'd had to call out as he couldn't track down the electrical fault (first tradesperson needed at Coven Sud for 14 years), needed to know where certain wiring rang, and could I remember what year we re-did the main bathroom as that was where the fault was likely to be, and we had photos of the wiring routes, if only we knew what year, and Dave called and texted several times.
I'd just sorted Mr BW out: categorically it was 1997, just as he'd got to that era in the photo albums anyway, when Dave rang again. "BW, BW," he said, "have you heard that Numberland is on lockdown again, no two households can meet, as of mid-night?" I hadn't. These days I ignore news unless Mr BW force-feeds it to me, so when he is absent, so is my world knowledge.
Dave and Darren (now our nearest blog readers - I hope!) have been threatening to visit for the past 6 months. "It's today or not for ages!" I learnt.
And so it came to pass that no more recountable tales were able to happen, because I was otherwise engaged all afternoon.
Otherwise engaged maybe, but I did put the 'eye on the workmen' that the lovely Ambermoggie (second nearest blog reader now I think, and our first real-life visitor, a couple of months ago) made and sent to me some weeks ago now, on guard, in the corner of the window.


We didn't ask the builders to turn down the radio, because we could then talk about them, and they couldn't hear. The builders stayed three quarters of an hour beyond their usual finishing time, and I was informed that 3 of the 4 of them qualified as 'eye candy'. I'm still trying to work out which one didn't.
I told Dave that he has to write another guest post, along the lines of that from - was it 2004? - which was one of the funniest things that has ever appeared on BW. But, it remains to be seen whether it appears. Does anyone remember that?
And Dave heard and then saw our first robin. I am so happy that we have a robin again. The only major bird type to be missing up to now.
Wednesday, September 16, 2020
Tuesday, September 15, 2020
Friday, September 11, 2020
Friday, August 28, 2020
Wednesday, August 26, 2020
Tuesday, August 25, 2020
Monday, August 24, 2020
Thursday, August 6, 2020
Sunday, August 2, 2020
Friday, July 31, 2020
Thursday, July 30, 2020
Monday, July 27, 2020
Sunday, July 26, 2020
Friday, July 24, 2020
Thursday, July 23, 2020
Wednesday, July 22, 2020
Tuesday, July 21, 2020
Monday, July 20, 2020
Sunday, July 19, 2020
Sunday, July 12, 2020
Saturday, July 11, 2020
Wednesday, July 8, 2020
Tuesday, July 7, 2020
Sunday, July 5, 2020
Saturday, July 4, 2020
Sunday, June 28, 2020
Thursday, June 25, 2020
Wednesday, June 24, 2020
Tuesday, June 23, 2020
Monday, June 22, 2020
Sunday, June 21, 2020
Saturday, June 20, 2020
Monday, June 15, 2020
Sunday, June 14, 2020
Thursday, June 11, 2020
Tuesday, June 9, 2020
Wednesday, June 3, 2020
Sunday, May 24, 2020
Friday, May 15, 2020
Wednesday, May 13, 2020
Wednesday, May 6, 2020
Tuesday, May 5, 2020
Monday, May 4, 2020
Saturday, May 2, 2020
Friday, May 1, 2020
Thursday, April 30, 2020
Wednesday, April 29, 2020
Tuesday, April 28, 2020
Monday, April 27, 2020
Sunday, April 26, 2020
Friday, April 24, 2020
Thursday, April 23, 2020
Wednesday, April 22, 2020
Tuesday, April 21, 2020
Tuesday, April 14, 2020
Sunday, April 12, 2020
Saturday, April 11, 2020
Friday, April 10, 2020
Wednesday, April 8, 2020
Monday, April 6, 2020
Sunday, April 5, 2020
Saturday, April 4, 2020
Friday, April 3, 2020
Thursday, April 2, 2020
Wednesday, April 1, 2020
Tuesday, March 31, 2020
Monday, March 30, 2020
Sunday, March 29, 2020
Saturday, March 28, 2020
Friday, March 27, 2020
Thursday, March 26, 2020
Wednesday, March 25, 2020