Wednesday, September 2, 2015
Dusk commotion in the car parking area
Luckily outside our stone boundary wall.


These five seemed like babies and were foraging the over-ripe figs that had fallen off the top of the huge tree (the ones we can't get at).


It's true, I prefer pigs to cats.
But the smell...
Mind you, they probably said the same about us.

Oh OK, here's a kitten picture. This is the white and tabbykitten drinking.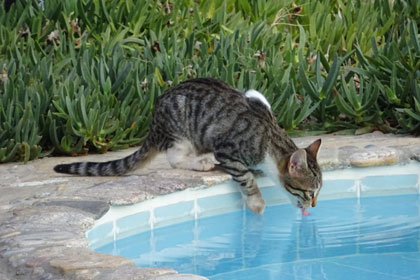 I think that the three kittens (two tabby, and this one) are a bit younger than ours, who were born on the 10th April. The tabby mum appeared yesterday too. Clearly previous visitors have let them in the villa and they are, let's say, taking some training. It's really hard watching four at once.
Still, they are beginning to learn. I'm sure the pool-man (who comes at 7.30am, usually before we are up) wonders why there are several lined-up plastic beakers of water on the table outside the door.
The visitor's book suggests that previous guests have been feeding them Whiskas and tuna. Clearly they know nothing about feral cats: if the mother only teaches the kittens to beg now, between October and May, when there are no visitors and it is very cold here (being mountainous), they will starve.
I'm a bit stymied with pictures currently - the files from this new camera are mostly around 8-10MB and will not display as thumbnails in Windows Explorer on the little netbook I travel with. The camera screen is too small to see enough detail to pick out the shots I want to use. So, there isn't an easy way to see the entirety of the photos I have taken on one screen. Anyone know if there is any way around this (short of shooting at a lower resolution)?
Monday, August 31, 2015
Saturday, August 29, 2015
Monday, August 17, 2015
Sunday, August 16, 2015
Thursday, August 13, 2015
Monday, August 10, 2015
Sunday, August 9, 2015
Tuesday, August 4, 2015
Monday, August 3, 2015
Friday, July 31, 2015
Wednesday, July 8, 2015
Monday, June 15, 2015
Friday, June 12, 2015
Friday, May 15, 2015
Wednesday, May 13, 2015
Tuesday, May 12, 2015
Monday, May 11, 2015
Sunday, May 10, 2015
Saturday, May 9, 2015
Friday, May 8, 2015
Wednesday, April 15, 2015
Sunday, April 12, 2015
Friday, April 10, 2015
Wednesday, April 8, 2015
Tuesday, April 7, 2015
Monday, April 6, 2015
Sunday, April 5, 2015
Friday, April 3, 2015
Thursday, April 2, 2015
Wednesday, April 1, 2015
Tuesday, March 31, 2015
Monday, March 30, 2015
Sunday, March 29, 2015
Friday, March 27, 2015
Wednesday, March 25, 2015
Tuesday, March 24, 2015
Monday, March 23, 2015
Saturday, March 21, 2015
Friday, March 20, 2015
Monday, March 16, 2015
Tuesday, March 3, 2015
Wednesday, February 25, 2015
Friday, February 20, 2015
Wednesday, February 18, 2015
Monday, February 16, 2015
Saturday, February 14, 2015
Friday, February 13, 2015
Thursday, February 12, 2015
Wednesday, February 4, 2015
Tuesday, February 3, 2015
Monday, February 2, 2015
Friday, January 30, 2015
Wednesday, January 28, 2015
Saturday, January 24, 2015
Wednesday, January 7, 2015
Tuesday, January 6, 2015
Monday, January 5, 2015
Sunday, January 4, 2015
Wednesday, December 31, 2014
Sunday, December 28, 2014