Tuesday, February 28, 2017
Sunday, February 26, 2017
Sunday, February 19, 2017
Update
And so it came to pass that we pulled out of buying the house in Mathsland. Over 3 weeks ago actually, but I haven't really felt like talking about it before now.
It just all got too ridiculous and all the things that had bothered us slightly suddenly clearly became future problems of indefinable and worrying proportion.
As I hinted before, warning bells were sounding about how long they were messing around. We first saw the place on November 3rd. At the end of January, into week 13, with us as effectively cash buyers, with no onward chain, and ex- wanting her money, things were going from slow to slower.
Given that we have friends who were in a 7 property, 6 new mortgage, chain that recently completed in 5 weeks (including one church property which needed 12 signatures to release), they clearly didn't want to sell, despite what they told us. And they were trying to screw ex- out of her share by some very shady dealing.
Dishonesty is not our thing, and we knew we wouldn't be able to live alongside it. Oh and let's not mention the attitude to environmental pollution - septic tank, declared totally clogged up and a hazard by our surveyor, emptying before exchange of contracts made a contractural item by us, then emptied by a 'mate with a tanker so I can't provide a receipt' and the unprocessed sludge then spread on fields rather than taken to sewage treatment works ('ah, but that costs money, and we have other ways of doing things up here, you'll get used to it.').
Ah well, that's somewhere north of three grand gone forever *deep sigh* but at least it's better than the high tens (or low hundreds) of thousands that I suspect it would have come to losing, if we'd bought it, spent the renovation and extension money, found the same problems, and not been able to resell *relieved thoughts*.
Sometimes you just have to walk away, irrespective of the costs. Mr BW did a fantastic job of unpacking everything packed, fitting it all back in where it had come from, and taking all the new stuff we'd bought to renovate the new place back.
So, on what should have been completion date (the third agreed with the vendor one, all of which were missed by their pathetically lazy and grossly incompetent solicitor), we went to the beach, where it was grey, but where there was a sign: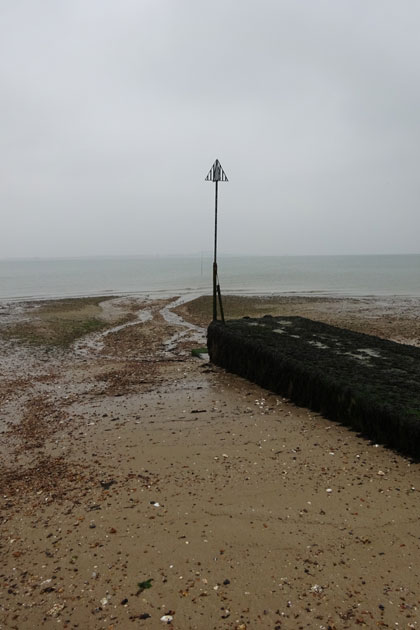 Believing in signs, this one was clearly, "The Only Way is Up!"
Back in mid-December, I finished off a qui1t I started in the autumn of 2014. It's huge (108" x 89") and I hadn't finished it because it was too big for me to qui1t, even on my big machine. A new Patchy Lady to my group recommended somewhere to take it that did great work at an excellent price, and arranged a date for a couple of us to accompany her to take it over. So, Mr BW and I stayed up until 4am to get it finished (not intentionally, it just took a lot longer than expected).
One last iron: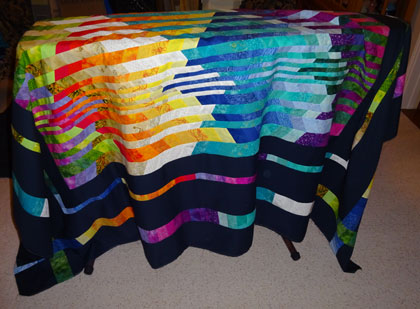 Laid out on the floor: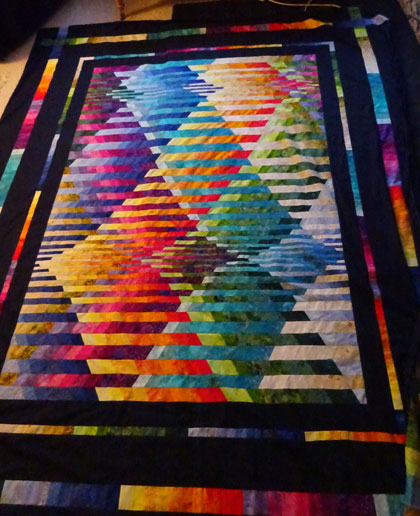 Next time I saw it, hanging up in the long-arm qui1ter's studio: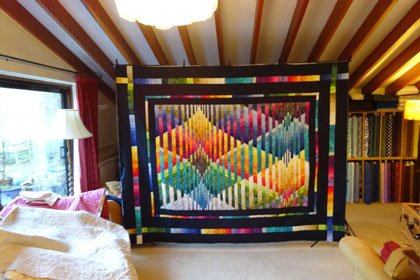 Close up: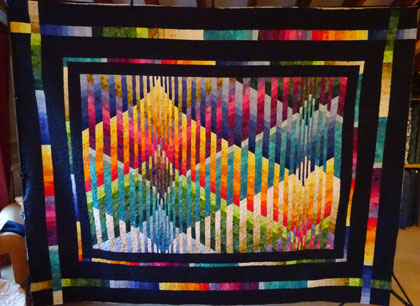 She did a great job, but the colours still weren't enough to brighten the darkness and the Coven- Nord-shaped hole in my heart.
The early snowdrops tried to cheer me up: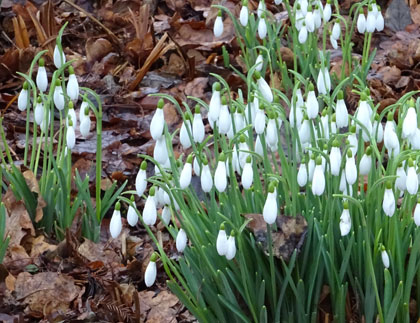 Mr BW finished Nelly (carved from a solid block of wood). I like ellies, but the song is now forever spoilt).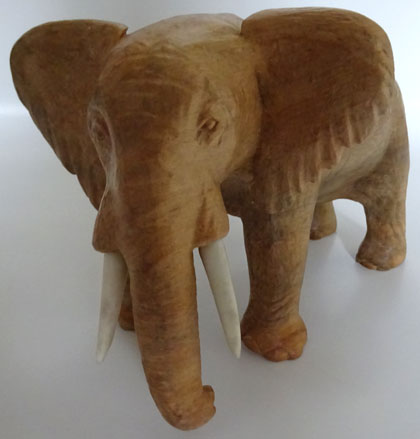 Mr BW made me some glass elly magnets, as well as some sheep ones: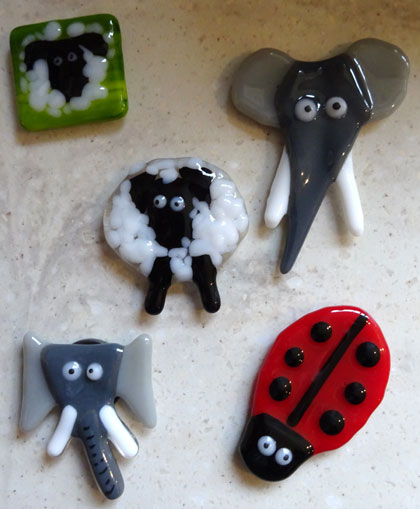 But I was still sad.
The deer put in an appearance to try to brighten my day: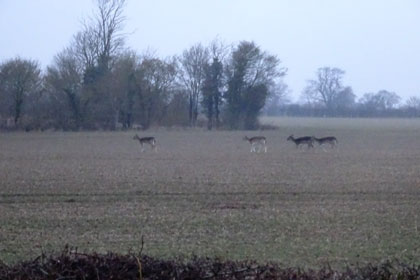 And still it didn't work.
A flock of unusual (for here) birds visted the field behind. At first I thought they were mistle thrushes, but then I realised they were too big. And the wrong colour. Consulting a bird book, I confirmed that they were fieldfares: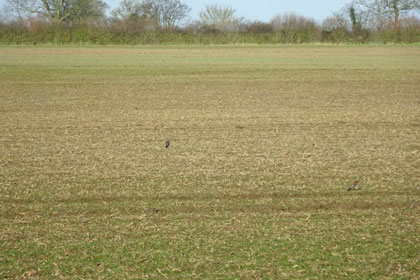 Normally I would have been delighted, but with all the avian flu around (and given that we are the only one of the six hen keepers around here who have made any effort to keep our birds segregated from wild birds, despite the Defra order) I just wanted them to fly away.

I looked at the thermometer in the polytunnel, that hadn't been reset since mid-September.


42.9°C. Better than the -6.2°C from last week I thought.
And so, in the absence of any planned projects, we decided to go to South Africa. As is normal for us at this time of year.


Ah, back to normality.
Wednesday, February 8, 2017
Monday, February 6, 2017
Friday, February 3, 2017
Tuesday, January 31, 2017
Sunday, January 22, 2017
Friday, January 20, 2017
Thursday, January 19, 2017
Friday, January 13, 2017
Thursday, January 12, 2017
Friday, January 6, 2017
Tuesday, January 3, 2017
Sunday, January 1, 2017
Monday, December 26, 2016
Saturday, December 24, 2016
Saturday, December 17, 2016
Tuesday, December 6, 2016
Sunday, December 4, 2016
Monday, November 28, 2016
Friday, November 25, 2016
Thursday, November 24, 2016
Tuesday, November 22, 2016
Monday, November 21, 2016
Sunday, November 20, 2016
Wednesday, November 16, 2016
Tuesday, November 15, 2016
Friday, November 11, 2016
Wednesday, November 9, 2016
Wednesday, October 19, 2016
Tuesday, October 11, 2016
Friday, October 7, 2016
Monday, October 3, 2016
Friday, September 30, 2016
Sunday, September 11, 2016
Wednesday, August 24, 2016
Thursday, August 18, 2016
Tuesday, August 16, 2016
Sunday, August 14, 2016
Saturday, August 13, 2016
Friday, August 12, 2016
Tuesday, August 9, 2016
Monday, July 25, 2016
Wednesday, July 13, 2016
Monday, July 11, 2016
Wednesday, July 6, 2016
Friday, July 1, 2016
Thursday, June 30, 2016
Wednesday, June 29, 2016
Tuesday, June 28, 2016