Tuesday, April 3, 2018
Monday, April 2, 2018
Saturday, March 31, 2018
Profiteering
We noticed a huge variation in the price of diesel between here and Birmingham last week.
It's 122.9 pence per litre (£5.59 per gallon) here at present. The most expensive we saw was on the M1 (140.0 ppl = £6.37 per gallon). The cheapest I found was at Costco in Birmingham at 113.7ppp (£5.17 a gallon).
That is £1.20 per gallon difference between the cheapest and the most expensive: or well over £13 on the average tank full.
That's bad, but there is worse, at least for those of us who live in more rural areas that don't have a gas supply.
Here is a chart of the price of Brent crude over the past year (in dollars per barrel):
Here is a chart of the price of heating oil in England over the last year (in pence per litre):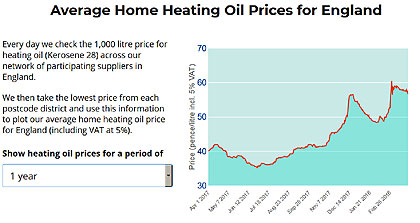 They don't exactly match, do they?
I can't find a chart of the average weather temperature over the past year (cf previous years), but I strongly suspect that the heating oil price follows the weather (inversely) more than the wholesale oil price.
I've always rung around local suppliers for the best litre price when we need heating oil. I've written about my 'triumphs' on past occasions many times.
A few years ago, the advent of the 'Boiler Juice' made getting the best deal rather easier: "So, you're telling me that your best price is x, but Boiler Juice are currently giving me a price of x-y ppl. As I know that you often deliver to me when I order via Boiler Juice, surely you can do better than that, y'know, cut out the middle-man..."
The price of any oil product is, of course, affected by factors such as crude oil prices, rates of production (ie world levels of supply), processing and distribution costs, local demand, the strength of local currencies, and local taxation, but, the price of heating oil when it's colder is just profiteering, particularly as the larger suppliers order months ahead to fix their prices, and the smaller suppliers buy from the larger.
I always avoid cold spells to order oil, and will often fill the tank when prices are low in the summer. Return on cash savings in the bank is around 2%, inflation is around 3%, the value of our capital is therefore decreasing 1% per year, so I endeavour to only top up only when it's cheap and save maybe 10-15% overall.
I've been watching the price of heating oil since we came back from abroad a month ago. Often Boiler Juice haven't been able to quote a price (ie their contracted suppliers aren't interested in quoting), or it's been stupidly expensive (the worst 69.8 ppl+ 5% VAT, on a 2 week lead time). It's been hovering around 60 ppl +5% VAT for the past week.
Given that I paid 37.6 ppl (+5% VAT) last September, I am not about to pay over half as much again now. So, we've had the heating turned off (in a normal year it's only on from mid-November to the beginning of March anyway, and we do have 2 wood burners and an Aga that gives off background warmth) to save what oil we've got left.
A friend told me about a local-ish lady who got fed up with being ripped off by the big oil-supply companies and set up her own small local company to challenge them. She doesn't advertise, and relies on word-of-mouth. I spoke to her and placed an order a couple of days ago. At the time the BJ price was 62.0ppl. Hers was 46.1ppl. Given that she doesn't have economies of scale, one can only conclude that, aside of the weather, what keeps heating oil prices high is (a) shareholders, and (b) oil company cartel pricing.
And, for anyone who buys oil through BJ... I've noticed that now they can't make money from imposing excessive credit card charges (it used to be £5.95, but free if you paid by 'cash'), they are putting a £2.99 fee on every transaction, so that adds significantly to the litre price for everyone, even if you pay by debit card or bank transfer. So, if you want the best price (and who likes being ripped off?) it's now more important than ever to ring around your local suppliers when ordering.
If the price of gas or electricity varied unpredictably by 60% when it got cold there would be an outcry.

Friday, March 30, 2018
Thursday, March 29, 2018
Wednesday, March 28, 2018
Thursday, March 22, 2018
Tuesday, March 20, 2018
Saturday, March 17, 2018
Wednesday, March 14, 2018
Saturday, March 10, 2018
Tuesday, February 27, 2018
Friday, February 23, 2018
Wednesday, February 21, 2018
Monday, February 19, 2018
Saturday, February 17, 2018
Thursday, February 15, 2018
Sunday, February 11, 2018
Saturday, February 10, 2018
Friday, February 9, 2018
Thursday, February 8, 2018
Wednesday, February 7, 2018
Tuesday, February 6, 2018
Monday, February 5, 2018
Sunday, February 4, 2018
Saturday, February 3, 2018
Friday, February 2, 2018
Thursday, February 1, 2018
Wednesday, January 31, 2018
Tuesday, January 16, 2018
Friday, January 12, 2018
Tuesday, January 9, 2018
Sunday, January 7, 2018
Friday, January 5, 2018
Thursday, January 4, 2018
Monday, January 1, 2018
Sunday, December 31, 2017
Wednesday, December 27, 2017
Tuesday, December 26, 2017
Monday, December 25, 2017
Sunday, August 13, 2017