Tuesday, March 11, 2014
Sunday, March 9, 2014
Friday, February 28, 2014
Monday, February 24, 2014
Saturday, February 22, 2014
Day 8
In which we get to see places that most tourists wouldn't, or wouldn't wish to.
The local township. 50,000 people now live here.


School. Education is free, but children must wear uniform. Many NGO chairites provide uniforms for children who would otherwise be denied education.
Grade R (our Year 1, 6 year olds), these 60 children have been in school 6 weeks. There was one teacher and one lunchtime helper.


Already they can sit in silence to eat in a mannerly way. Many of these children had never sat to eat at a table before coming to school, and most had never used a pencil or had access to toys, let alone spoken English (the medium of teaching)..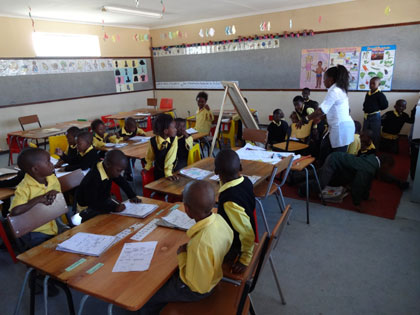 Grade 1 (our Year 2 - 7 year olds). 51 children, one teacher (with the loudest voice I have ever heard), no help. Many children come into Grade 1 (often from other, poorer, areas) with no pre-school or Grade R experience.
This township is situated 2 miles from the centre of the richest suburb of Cape Town. It relies on international aid and volunteers (mainly gap year students and retired teachers from Europe and the US).
More later.
Thursday, February 20, 2014
Wednesday, February 19, 2014
Tuesday, February 18, 2014
Sunday, February 16, 2014
Thursday, February 13, 2014