Monday, July 21, 2014
Wednesday, July 16, 2014
Sunday, July 13, 2014
Friday, July 11, 2014
Tuesday, July 8, 2014
Monday, July 7, 2014
Aerial images...
I was wrong - the commercial break in the coverage was while they were coming through the next village up.
They missed filming past The Coven by somewhere between two and four seconds, showing, as they were, an aerial shot from one of the 5 (or maybe 6, we lost count) helicopters that were flying overhead at the time the cyclists were flashing past us: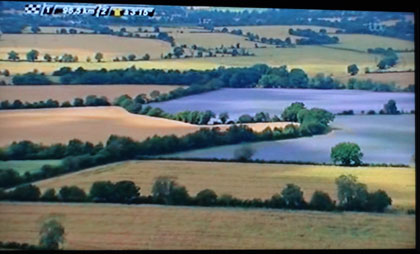 We're a couple of hudred yards off to the bottom left of the picture (but, at least we now know where our b33s are currently working - those fields of b0rage are invisible from any surrounding roads). That's a photo taken from our recorded TV coverage.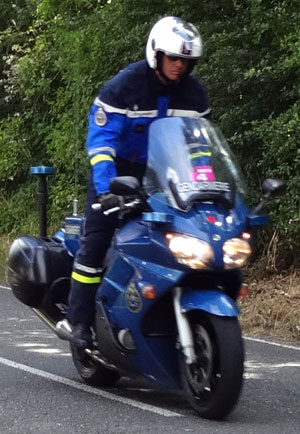 I had lots of fun shouting at the gendarmes (there can't have been many left in France - and there certainly weren't any police motorcyclists left to work anywhere else in our county) and supporting vehicles in French.
Oh, and, as the sponsors' trucks that came through a couple of hours before weren't throwing out many freebies (as there were very few people down our bit of the lane), I found that they responded rather nicely to "Les cadeaux?" That said, the only useful things hurled were two packets of seeds, disguised as matches.




There were some great floats.
This one was my favourite (I think there were 3 in the series, each with Miffy wearing a differently coloured dress):


Lots of the French vehicles had registration plates starting 'DG':


That's either a dream come true or a hangover waiting to happen, depending on your point of view:


Probably a safer bet, on a warm sunny day (the weather was lovely near us, but it started to rain as they reached London. It's only just started to drizzle here now):


What a great summer job that must be: 3 weeks travelling around the UK and France, smiling and waving at people:


We were utterly amazed at how many cars with roofracks full of bikes there were - easily three bikes for every competitor. And the speed with which all these vehicles raced down the road was astonishing. I wasn't aware that they were allowed to ignore the speed limits, but they clearly were. 60+mph rather than 40mph. It was scary.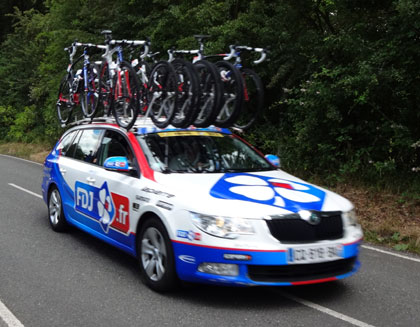 Having left Cambridge at 12.15pm, the first two riders (Bideau and Barta) were over 3 minutes ahead of the peloton when they reached us at about a quarter to two.


The blur in the pictures captures the speed with which the whole shebang passed. I still can't quite believe that it went within millimetres of my feet.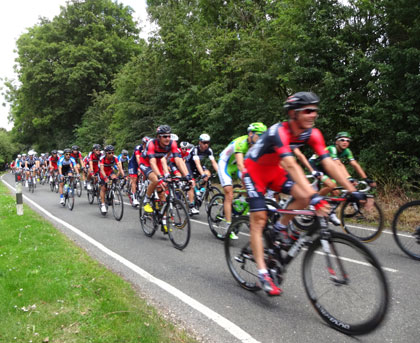 Towards the back of the peloton it was a glorious muddle of support cars, camera bikes and stragglers weaving around all over the road.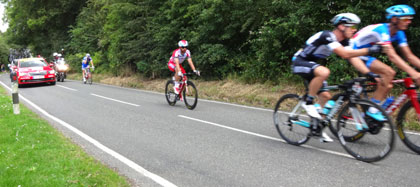 The road isn't wide enough to overtake, but they were managing it somehow. Some of them even overtaking as the driver handed one of his team riders a drink. I'm amazed no-one was injured.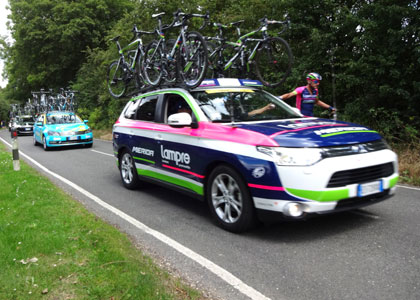 We invited our elderly neighbour (88) to sit outside with us to watch. I'm still trying to work out whether he was more amazed at what I was doing while waiting, at the fact that we watched the progress of the race down through all the villages from Cambridge on Mr BW's iPad (he doesn't even have TV), or at the spectacle of the whole thing.


A once in a lifetime event, for sure.
Sunday, July 6, 2014
Friday, July 4, 2014