Thursday, August 16, 2018
Wednesday, August 15, 2018
Tuesday, August 14, 2018
Looking peachy
There is nothing to beat the taste of a fully sun-ripened peach. Full-size and juicily orange-fleshed this year, thanks to many weeks of glorious hot sun, and an auto-watering system delivering just the right amount of water to the roots: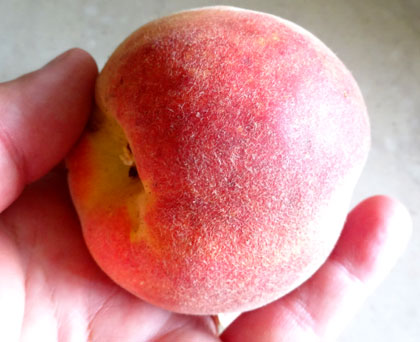 And there are plenty more on the patio peach tree (covered with fleece to keep the wasps away).
Here's the finished fuchsia glass table top, about 1cm thick, with a matt (non-slip) surface after two firings: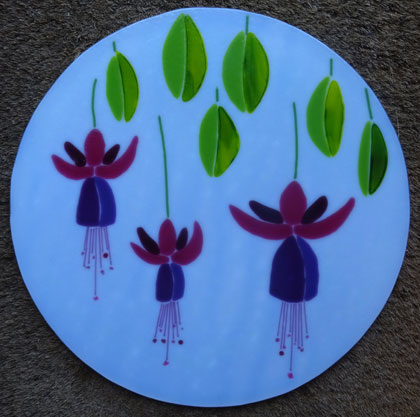 Not a very good picture as there isn't any nice shiny thing in the sky today.
Here it is after the first firing. Shiny, not flat, and needing a little remedial attention to the ends of the longer stamens as the opal pink we originally picked proved too similar to the white opal background: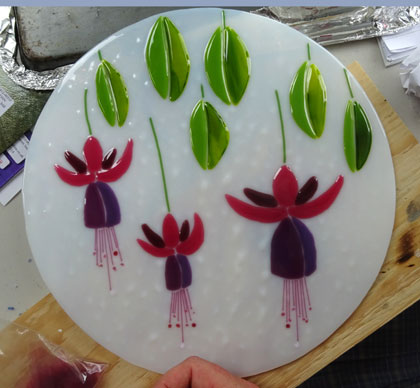 And here's the photo I posted before so you can see how the colours changed during firing: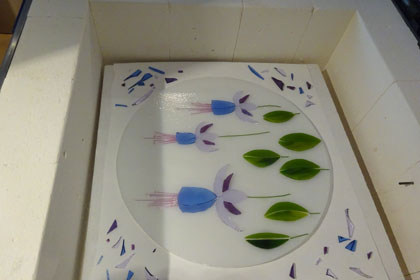 Here is the deteriorated mosaic top it is replacing. Tip: never make an outdoor mosaic from old crockery. Over time, the glaze will come off some of the bits, even if you think they will be frost proof: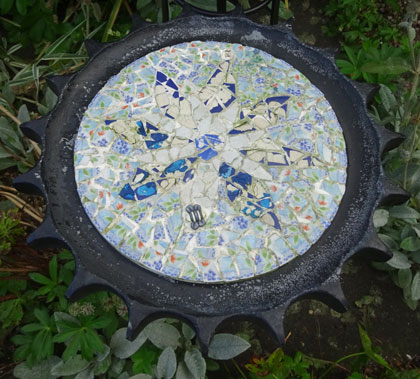 Although you wouldn't know it now, this flower once had BW blue petals and was really quite nice.
I'll post a picture of the finished table soon - it's currently being repainted.

Monday, August 13, 2018
Sunday, August 12, 2018
Saturday, August 11, 2018
Friday, August 10, 2018
Wednesday, August 1, 2018
Monday, July 30, 2018
Tuesday, July 24, 2018
Friday, July 20, 2018
Wednesday, July 18, 2018
Friday, July 13, 2018
Thursday, July 12, 2018
Wednesday, July 11, 2018
Thursday, May 3, 2018
Wednesday, May 2, 2018
Tuesday, May 1, 2018
Saturday, April 28, 2018
Friday, April 27, 2018
Tuesday, April 3, 2018
Monday, April 2, 2018
Saturday, March 31, 2018
Friday, March 30, 2018
Thursday, March 29, 2018
Wednesday, March 28, 2018
Thursday, March 22, 2018
Tuesday, March 20, 2018
Saturday, March 17, 2018
Wednesday, March 14, 2018
Saturday, March 10, 2018
Tuesday, February 27, 2018
Friday, February 23, 2018
Wednesday, February 21, 2018
Monday, February 19, 2018
Saturday, February 17, 2018
Thursday, February 15, 2018
Sunday, February 11, 2018
Saturday, February 10, 2018
Friday, February 9, 2018
Thursday, February 8, 2018
Wednesday, February 7, 2018
Tuesday, February 6, 2018
Monday, February 5, 2018
Sunday, February 4, 2018
Saturday, February 3, 2018
Friday, February 2, 2018
Thursday, February 1, 2018
Wednesday, January 31, 2018
Tuesday, January 16, 2018
Friday, January 12, 2018
Tuesday, January 9, 2018
Sunday, January 7, 2018
Friday, January 5, 2018
Thursday, January 4, 2018
Monday, January 1, 2018
Sunday, December 31, 2017
Wednesday, December 27, 2017
Tuesday, December 26, 2017
Monday, December 25, 2017