Sunday, February 2, 2020
Thursday, January 30, 2020
SA 2020 Stop 2
After a hectic 6 days and 5 nights in Noordhoek, just down from Cape Town (local produce and food markets, wine-tasting, visiting gardens, seeing people drive over cliffs, and inhaling far too much welt-fire), we headed east and up a bit, to our next destination, also somewhere we have stayed before, so regular readers may recognise the views from the farm.
The journey is a little over 300 miles, and should have taken around 5 hours, but took 8, due to the never-ending road works this country engages in. I am convinced they are job creation schemes.
We stopped briefly to buy farm-grown fruit and veg at the PumpkinStall outside Worcester (pronounced with a 'v' not a 'w'):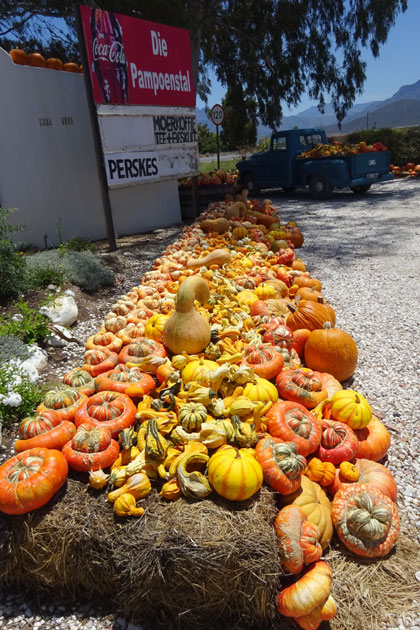 We were amazed that a year on (or maybe it's 2 years on), there is still little progress on the replacement bridge at Robertson: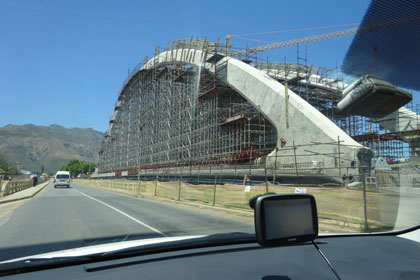 We stopped briefly again at Montagu to pick up our annual dried fruit import:


And then we were stopped again by a policeman standing dangerously in the middle of the road waving his arms, who informed me that he was doing a, "Random vehicle inspection madam, please, driving licences!"
I was initially in two minds whether to stop, as there was nowhere safe to so do, and he might have been a carjacker. I did stop, largely because Mr BW was shouting at me to so do, and there were several police vehicles on the side of the road (taking up all the safe space to pull in). As Mr BW got out to get the requested documents from the boot of the car, a township minibus (locals' transport) nearly ran up the back of the car, and, had the policeman not stood up rapidly from where we was bending over to peer in the car window, would also have removed his posterior.
I refrained from saying, "It's not me who you should be stopping mate, it's your bloody countrymen who drive like maniacs - probably because they are as high as kites!" In the UK, without doubt, one of the other police vehicles would have given chase to the miscreant, but they were more interested in scanning the car's tax disc and trying to work out our pink and green paper driving licences. Undoubtedly they'd never seen the like before.
"All is in order, you may proceed!" said nearly-cut-in-half officer. I doubt he intended to stop a hire car, particularly one containing foreigners, and he seemed most disappointed that all was in order.
On the subject of locals, the rebuilding of corrugated metal shanty towns is continuing apace. This settlement has been replaced since last year. What is amusing is that where there is even a tiny garden beside the new rendered brick building, a metal shack is put up in it. We can't decide whether this is extra accommodation for relatives newly arrived from upstate, looking for work, or whether it is for old time's sake: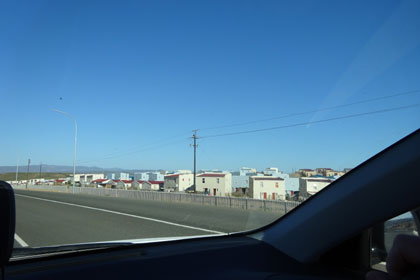 When we arrived at our destination, a seed and ostrich farm in the middle of nowhere, having driven the 5 miles down a dirt road, we were met by a foreboding new electronic gate (the previous gate remains on the LHS, padlocked up).


Our farmer friend had emailed us the code, but it didn't work. Mr BW tried it lots of different ways, then tried to phone for help (there not being a button to summon assistance), but there was no mobile signal. I tried to get the gate to open by squeezing through a gap and acting like a car (we knew it auto-opened on exit), but failed. Just as we were deciding whether to walk the half mile (in 35°C) to the farmhouse, or to drive back down to the main road to try to find a mobile signal, a worker on an old moped appeared in a puff of dust. "Must fast!" he repeated, several times. Eventually we realised that the number had to be tapped in very quickly, and the gate then magically opened.
This view you have seen before:


And while we had bats in the original farmsteading here that we stayed in the first year we came here, we hadn't had bats in the old schoolroom, where we've stayed ever since. Bats at dawn (rather than dusk), in fact: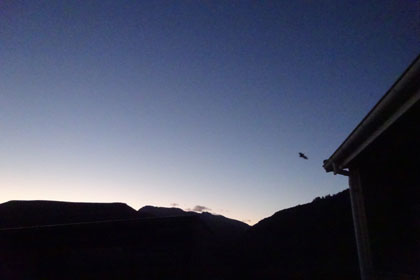 We love wending our way through the countryside, picking up locally made or produced foodstuffs for our meals. Here we have lunch of local sweetcorn, olives, 100% rye bread, curried peach chutney, gouda with wild garlic leaves, and beer: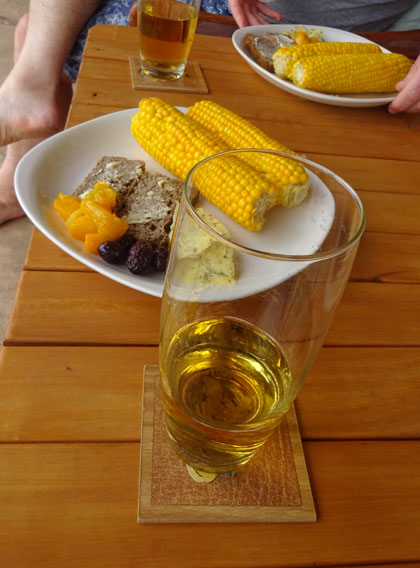 It's definitely too hot to be trying to work on a complicated crochet pattern. I needed something light in weight to bring to occupy me while Mr BW reads his 13 books, and had only this home-spun fibre to hand, and, being rather special, it needed a delicate pattern. Here I have (I think?) already done one increase too many too quickly (and I haven't had a drop of wine or beer since yesterday!):


Definitely not a pattern to be done when anything other than completely sober… meaning that I shall either (a) drink less than normal in SA, or (b) not get this item finished. Hmmm, I wonder which it will be?
We have a few more days here in the silent, dark-skied, arid semi-desert, before we head further east and down a bit to the Port Elizabeth area. We've not been anywhere we're visiting from here on, or ventured so far across or up.
Mr BW has a date with some of Mi1dred's sisters that he met on the internet (I get to go too, oh joy), and we're also hoping to get to the elephant park (one of the SA Nature Park reserves through which you can self-drive).
Monday, January 27, 2020
Sunday, January 26, 2020
Friday, January 24, 2020
Monday, January 20, 2020
Saturday, January 4, 2020
Tuesday, December 31, 2019
Thursday, December 26, 2019
Wednesday, December 25, 2019
Tuesday, December 24, 2019
Sunday, December 22, 2019
Wednesday, December 11, 2019
Friday, December 6, 2019
Tuesday, December 3, 2019
Friday, November 29, 2019
Thursday, November 28, 2019
Thursday, November 21, 2019
Sunday, November 17, 2019
Wednesday, November 6, 2019
Thursday, October 31, 2019
Tuesday, October 29, 2019
Monday, October 28, 2019
Friday, October 25, 2019
Saturday, October 19, 2019
Wednesday, September 4, 2019
Sunday, September 1, 2019
Wednesday, August 28, 2019
Monday, August 12, 2019
Wednesday, July 24, 2019
Tuesday, July 23, 2019
Wednesday, July 10, 2019
Thursday, July 4, 2019
Wednesday, July 3, 2019
Tuesday, July 2, 2019
Saturday, June 29, 2019