Sunday, October 19, 2014
Sunday, October 12, 2014
The End

Or rather, the ends.
132 of them. At least.
It seemed a really good idea to use up a lot of the single and short skeins of super-chunky yarn that I've spun over the past few years, by making a multi-coloured waistcoat. As most of my dyeing is done with a limited palette of related blues and greens, constructed from 5 or 6 basic dye colours, the stripes blend beautifully into each other (this is the wrong side, which looks nothing like the right side: I'll show you the front when it's finished).
But, never again. If I ever get an urge to reduce my yarn baskets again, I shall spin all the oddments together first, and then knit the garment as one piece, rather than as two fronts and a side. Given that it takes around 5 minutes to weave each end in, following the pathway of each stich in the knitting, but splitting the plies to ensure they are secure, and that they don't double the bulk of the original stitch and so show on the right side, that's 11 hours of end-weaving. At least. And I hate finishing off ends nearly as much as I hate washing dishes (I have a dishwasher), ironing (I have Mr BW), cleaning (I have Cleaner BW), and car washing (the car is washed once a year as part of the service service).
I did about 4 hours on Friday (I was meant to be demonstrating sp1nning at a localish NT house, but, given the lack of visitors due to the intermittent showers and general yucky autumnness, I cheated and sewed in ends instead), and have done another couple of hours this afternoon, while Mr BW has been doing an excellent job of continuing to put the garden to bed (or rather, into the greenhouses and polytunnel, and cutting down and pulling out the rest). But, there still seem to be as many ends as ever.
We saw 'our' deer family on Friday evening, way across the other side of the field. We don't see them very often (a couple of times a year), and usually more in the early morning, but there are currently 3 babies and 2 adults (and the adult male is presently sans antlers). These photos taken on extreme telephoto on my little Sony allinone: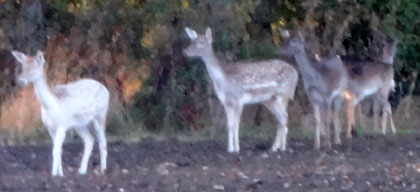 I went on my annual coach outing to the Knit and Stitch Show at Ally Pally on Thursday. Much less crowded this year, as they opened a day earlier than previously, on the Wednesday, and, so the traders that I know told me, many of the not-really-very-interested GCSE textiles students who annoy everyone visited then. Now, we only need to get rid of the people with pull-along trolleys who are a real safety/bruise risk. It's not as if the organisers don't provide a cloakroom where things bought could be safely stored until the end of the day.
I fancy making one of these (excellent way to use pieces of 'precious' fabric):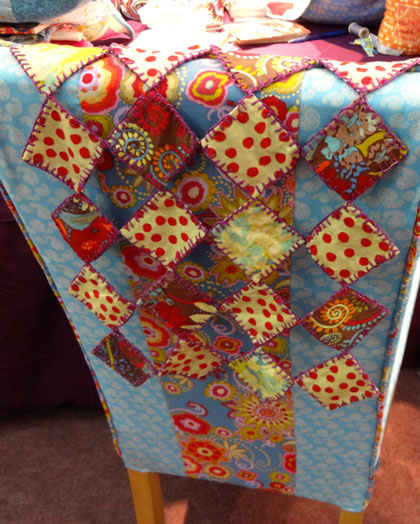 One of these (quick and easy crocheted shawl - although I might try it as a more structured garment):


And one of these (real leaves, magicked onto fabric, and sewn together using running/kantha and continuous chain stitches):


And the use of small patchworked pieces as part of garments has potential too:


I really don't understand how some people can claim they are 'bored' and have nothing to do. I think that if I had three lifetimes I wouldn't get around to making everything I'd like to.

Monday, October 6, 2014
Sunday, October 5, 2014
Saturday, October 4, 2014
Friday, October 3, 2014
Thursday, October 2, 2014
Wednesday, October 1, 2014
Saturday, September 27, 2014
Friday, September 26, 2014
Wednesday, September 24, 2014
Tuesday, September 23, 2014
Sunday, September 21, 2014