Tuesday, February 5, 2019
Monday, January 28, 2019
Sunday, January 27, 2019
SA2019 - Early Days
No matter how many times I fly into Cape Town, there is still that *eeeeeee!* feeling on first sight of Table Mountain (flat mountainy bit in the background) and Signal Hill (peaky bit to the RHS) from the plane.


It was 0°C all the way from home round the M25 to Heathrow on Wednesday afternoon, but had dropped to -4&degC by 6.15pm, so we had to wait for the de-icing machine to spray our wings and tail before we could take off. That made the 22&degC when we landed at 9am the next morning much more welcome.
It's breezy (as ever just down the coast from Cape Town) but mid- to high- 20s by day, and 17°C by night. Great to acclimatise before heading up into the drier regions where it is likely to be in the 40s. Hopefully.
The nice hire company gave us an almost brand-new car - only 309km on the clock - probably as we have booked a (comparatively) long rental, so we'd better be careful. No going down unmade rocky roads, or any of the dangerous off-road detours we're (in)famous for. Well, at least not for the first few days.
No Elly Plates (a pictorial registration from the Eastern Cape region, down towards Port Elizabeth) this time, just a Cape Town registration, so we'll be obviously tourists as soon as we leave the Cape, which is a bit of a pain. The car is the current 'trendy' colour here, a sort of nasty metallic 'mushroom'. Amidst a sea of white and silver, it's visible in a car park, which is a good thing. I've had to take a picture of it in case we misplace it as my memory card seems to have run out of space for random car registrations, only needed in the short term. Must be an age thing.
On which subject, I'm still delighting in the owner of our favourite vinyard in Franschhoek telling me that she was feeling tired and visibly slowing down. "I know how you feel!" I empathised. "But you're not as old as me, yet, I think," she replied. It turned out that she was 4 years younger than me.
Perhaps on the back of this, she let us buy from the 2018 rosé vintage (beautifully young and fresh), which they hadn't yet labelled (or, indeed, actually released), and her daughter (about to go off to university) wrote on the bottles for us. And then also signed a bottle of her own first make (of which we acquired a delicious one last year), which had now sold out, to everyone except friends. OK, so we spun her a tale (albeit true) about wanting to impress our (albeit retired) wine-importer friend and having a silver wedding coming up, but.

And today, at a craft market, another person who has become a friend, an English lady, a couple of years younger than me (who has lived out here since 1991), a potter, making and selling brightly painted pottery (of which we have a growing collection) confided that she was having botox to control her wrinkles.


I taught her 8 year old (adopted as an unwanted/unaffordable baby from a township) daughter the easy 'finger' way to calculate the 9x table, and lent my purse-safety safety pin to her (also English) husband to dig a thorn out of the child's foot. I insisted on spraying it, the girl's foot, and dad's hands with anti-viral hand sanitiser, and marvelled that most people clearly don't worry about such things. They couldn't decide whether I was a nurse, or a teacher. I didn't enlighten them.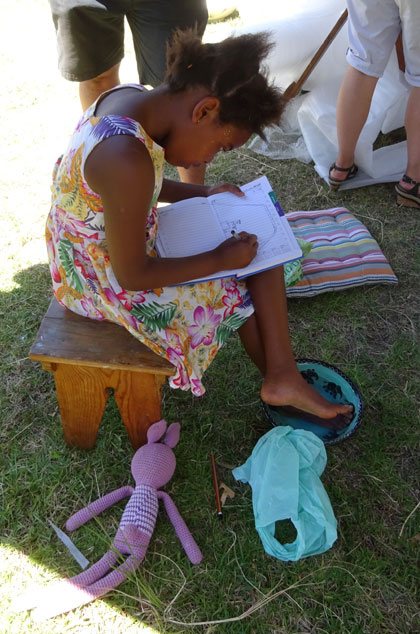 We went to our second favourite vineyard and were given 4 free bottles of rosé, for a reason we couldn't quite determine. Probably because an 'Entitled' was requiring an 8% discount off 60 bottles and the staff couldn't find a manager who would answer their phone to authorise it, it being a Sunday afternoon. We got much more than 10% equivalent, just by being us. Ah well.


You do have to wonder why some people go to vineyards for wine tastings. These two seemed to prefer their phones to the experience. I guess that is why more and more vineyards are now charging for tastings. We're only here for the free wi-fi.


Tonight we are having rubber band stew. Made with a whole kilogram of fresh tomatoes (cheaper than one can of tinned) and a whole bottle of red wine, all reduced down. Just £2 from a supermarket (the sort of South African red you get on the £5.99 offers in supermarkets at home, that in reality is made from premium vineyards' over-production of grapes, sold on to a co-op to get some sort of monetary return, but where the production is hastened and not overseen by a 'named' winemaker).


We are 25 this year, and so is the end of Apartheid. To us, on our seventh visit, things are beginning to visibly change now, and the townships (shanty towns, with side-by-side corrugated tin shacks, no running water, and toilets shared between many familes) are being replaced by cement-block built houses with indoor facilities. But this has only begun to happen in the past couple of years, and only outside of cities. We've noticed that the township in this area (across the road and above the pictured beach - photo taken from moving car) still continues to grow. And 7% of the population still own 70% of the land.
There is an election in a few months, and people had to register to vote this weekend. Interesting times here.
Wednesday, January 23, 2019
Monday, January 21, 2019
Thursday, January 17, 2019
Wednesday, January 16, 2019
Monday, January 14, 2019
Friday, January 11, 2019
Wednesday, January 9, 2019
Friday, January 4, 2019
Thursday, January 3, 2019
Wednesday, January 2, 2019
Tuesday, January 1, 2019
Monday, December 31, 2018
Monday, December 24, 2018
Friday, December 21, 2018
Saturday, December 15, 2018
Wednesday, December 12, 2018
Friday, December 7, 2018
Thursday, December 6, 2018
Monday, December 3, 2018
Saturday, December 1, 2018
Thursday, November 1, 2018
Wednesday, October 31, 2018
Monday, October 29, 2018
Thursday, October 25, 2018
Wednesday, October 24, 2018
Saturday, October 13, 2018
Wednesday, October 10, 2018
Monday, October 8, 2018
Wednesday, September 26, 2018
Monday, September 17, 2018
Saturday, September 15, 2018
Tuesday, September 11, 2018
Friday, September 7, 2018
Tuesday, September 4, 2018
Monday, September 3, 2018
Friday, August 31, 2018
Friday, August 24, 2018
Thursday, August 23, 2018
Wednesday, August 22, 2018
Thursday, August 16, 2018
Wednesday, August 15, 2018
Tuesday, August 14, 2018
Monday, August 13, 2018
Sunday, August 12, 2018
Saturday, August 11, 2018
Friday, August 10, 2018
Wednesday, August 1, 2018
Monday, July 30, 2018
Tuesday, July 24, 2018
Friday, July 20, 2018
Wednesday, July 18, 2018
Friday, July 13, 2018
Thursday, July 12, 2018
Wednesday, July 11, 2018