Tuesday, July 27, 2021
Monday, July 26, 2021
Sunday, July 25, 2021
Thursday, July 22, 2021
And there it was gone
On Monday we had a slate roof: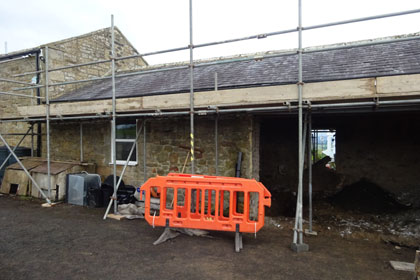 No floor, but a slate roof:


And an inside roof, with felt, and timbers, some very very old, and some newer, and a whole load of bodged spliced-in repairs to various wooden lengths in the structure, and even, just to make it even more structurally unsafe, A-frames that had been cut through, in the interests of providing storage space at the expense of the structural integrity of the roof (oh Bodgit and Coverit, how we pity your lack of understanding of all things practical):


On Tuesday they took the ridge off: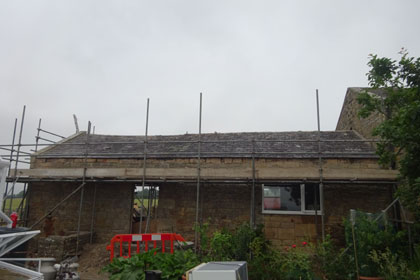 And then the slates: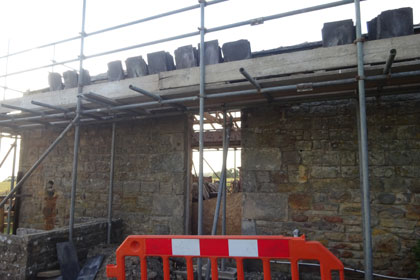 Until there were just some timbers left: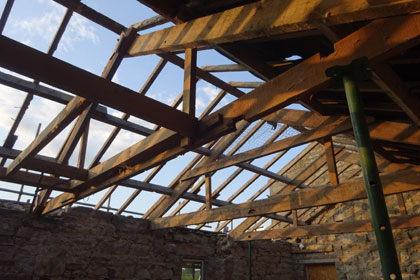 The very oldest timbers were attached together with hand-made nails:


And even bigger hand-made nails: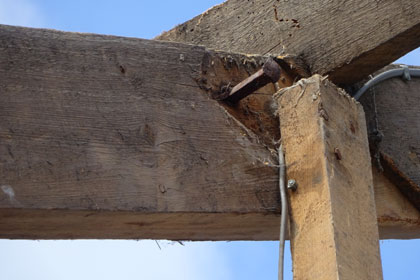 And another hand-made nail (not a dead art, Mr BW can still make them), and some dry rot and woodworm: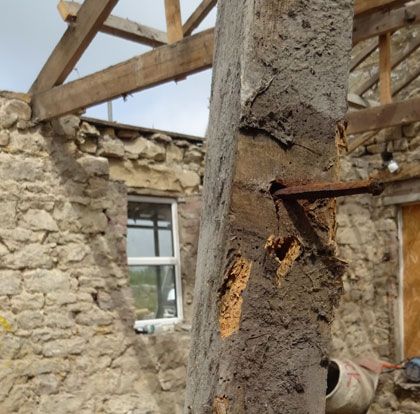 The two Child Builders started taking the timbers down soon after 8.15am this morning. Mr BW had overheard the senior one speaking to Chief Builder (with covid, after his last week's holiday, so in isolation in his bedroom 40 miles away, but lacking serious symptoms) to get some instruction on how to tackle the demolition: they hadn't done anything like this before, let alone on their own. They had a battery-powered saw, a few lump hammers, a sledge hammer, and a couple of crowbars, and lots of muscle.
By lunchtime they had done pitifully little, except make lots of noise with the underly-powered battery saw: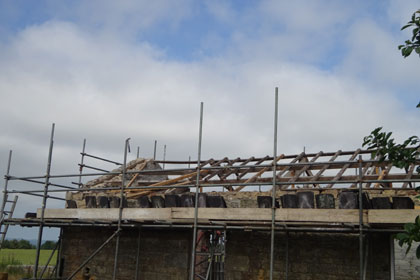 As we sat outside in the sun eating our lunch, I could tell that Mr BW was itching to help them. "Do you think I should offer some help with my chainsaw?" he asked. "As long as you put on every bit of protective gear you have got... set them a good example!" I replied.
With a, "Watch and learn kiddos!" (no, not really) Mr BW ran up the scaffolding and set-to making short work of what would probably have taken them another 2 days. Well, he did, but only after it took 10 minutes to get the chainsaw started, due to the heat. A few nifty v-cuts and a bit of impromptu teaching on how such structures work, so how to identify and attack their weak points:


Going: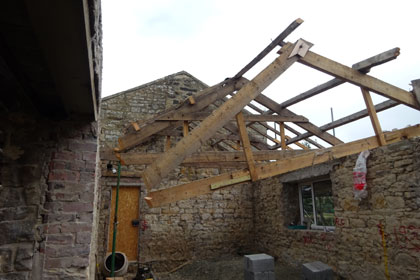 Going:


Gone: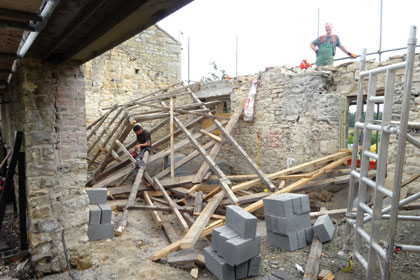 Oh bugger. We have no roof. It's going to rain next week. And, I strongly suspect, from something I overheard, no builders either, given their currently depleted team numbers.
No builders = no more staged payments until they return, of course. But they don't know that, yet .

Wednesday, July 21, 2021
Tuesday, July 20, 2021
Monday, July 19, 2021
Sunday, July 18, 2021
Saturday, July 17, 2021
Friday, July 16, 2021
Wednesday, July 14, 2021
Tuesday, July 13, 2021
Monday, July 12, 2021
Sunday, July 11, 2021
Thursday, July 1, 2021
Monday, June 28, 2021
Sunday, June 27, 2021
Friday, June 25, 2021
Thursday, June 24, 2021
Wednesday, June 23, 2021
Tuesday, June 22, 2021
Monday, June 21, 2021
Sunday, June 20, 2021
Tuesday, May 25, 2021
Saturday, May 22, 2021
Wednesday, May 19, 2021
Monday, May 17, 2021
Friday, May 14, 2021
Thursday, May 13, 2021
Wednesday, May 12, 2021
Tuesday, May 11, 2021
Monday, May 10, 2021
Saturday, May 8, 2021
Thursday, May 6, 2021
Saturday, May 1, 2021
Wednesday, April 28, 2021
Tuesday, April 27, 2021
Sunday, April 25, 2021
Sunday, April 18, 2021
Saturday, April 17, 2021
Friday, April 16, 2021
Wednesday, April 14, 2021
Tuesday, April 13, 2021
Sunday, April 11, 2021
Saturday, April 10, 2021
Friday, April 9, 2021
Tuesday, April 6, 2021
Sunday, April 4, 2021
Friday, April 2, 2021
Wednesday, March 31, 2021
Sunday, March 28, 2021
Wednesday, March 24, 2021
Monday, March 22, 2021
Sunday, March 14, 2021
Friday, March 12, 2021
Wednesday, March 10, 2021
Sunday, March 7, 2021
Saturday, March 6, 2021
Thursday, March 4, 2021
Wednesday, March 3, 2021
Tuesday, March 2, 2021
Sunday, February 28, 2021
Saturday, February 27, 2021
Thursday, February 25, 2021
Monday, February 22, 2021
Tuesday, February 16, 2021
Monday, February 15, 2021
Sunday, February 14, 2021
Friday, February 12, 2021
Wednesday, February 10, 2021
Tuesday, February 9, 2021
Monday, February 8, 2021
Sunday, February 7, 2021
Monday, February 1, 2021
Sunday, January 17, 2021
Saturday, January 16, 2021
Friday, January 15, 2021
Thursday, January 14, 2021
Monday, January 11, 2021
Friday, January 8, 2021
Wednesday, January 6, 2021
Tuesday, January 5, 2021
Monday, January 4, 2021
Friday, January 1, 2021
Monday, December 28, 2020
Thursday, December 24, 2020
Saturday, December 19, 2020
Friday, December 18, 2020
Wednesday, December 16, 2020
Monday, December 14, 2020
Monday, December 7, 2020
Saturday, December 5, 2020
Friday, December 4, 2020
Thursday, December 3, 2020
Wednesday, December 2, 2020
Sunday, November 29, 2020
Saturday, November 28, 2020
Friday, November 27, 2020
Thursday, November 26, 2020
Tuesday, November 24, 2020
Sunday, November 22, 2020
Friday, November 20, 2020