Monday, January 20, 2020
Saturday, January 4, 2020
Tuesday, December 31, 2019
Transitions
As the sun sets on another year, another decade, many people are reflecting on where they are and where they would like to be.


I was in bed the other morning, looking out of the window at the birdfeeder, which is just a couple of feet from the window, when I saw a sight that delighted but concerned me.


Woodpeckers are very partial to bees. But, they don't like other woodpeckers, so we drawing pin old or used CDs and DVDs to the outside of our hives, in an effort to dissuade the woodies from their quests by tricking them into thinking their reflection is a competitor.
I got to thinking about woodpeckers, and how I frequently feel like one... banging my head against a wall, trying to fight off 'progress' which I do not perceive as for the long-term best of the area, the environment, or, sometimes, humankind.
Just occasionally though, there are some sparks of hope that past efforts have not all been in vain.
I read yesterday in the free newspaper of a town in a neighbouring county that they are to create nearly a thousand new places for children with special needs, because the purse-string-controlling Powers That Be have decided that those needs cannot be met within mainstream schools. Not that they weren't told this more than 20 years ago by those of us working in this area at the time when They were determined to close much of the excellent special provision in the interests of 'integration'. As a result, the happiness and future lives of many children (and their familes) have been damaged. Let's hope that this new practice spreads more widely, as the education of all children will be enhanced as a result: and there is no need for segregation, just sensible co-located provision for differing needs. I'm sure that many mainstream teachers will also breathe a sigh of relief that they no longer have to try to teach the unteachable.
Over the FOTCR™ season, Freeview in many parts of England has been affected by 'high pressure'. I've noticed that the barometer has spent much of its time recently around where it would be if we had either snow or frost in winter or very hot weather in summer. It's been too warm for snow, but it's been damp, with only odd bursts of sunshine, so very peculiar. In his pre-early-retirement life, Mr BW was, at one time, heavily involved in the technology behind digital TV. The company he worked for advised those setting up the digital system that their required specification would prove to be too low powered, in the longer term. Despite the engineers' protestations, the purse-string-holding Powers That Be knew best. It looks like they were wrong too. It doesn't hlep those of us who have had fluctuating TV for the past few days though.
As I often say, all you have to do is wait.
So, what did we do over the FOTCR™?
Well Mr BW made me a wooden table, about the height of a chair seat, out of a nicely seasoned plank of ash, bought from the wood fair at a local National Trust property. It has two 50cm circles of tempered glass, top and bottom, with the top one being removable.


Sandwiched between them now is my collection of old cotton reels, which have been given to me, over time, by those of my aquaintance who want their cherished threads to live on after they have gone. They know I appreciate such simple things.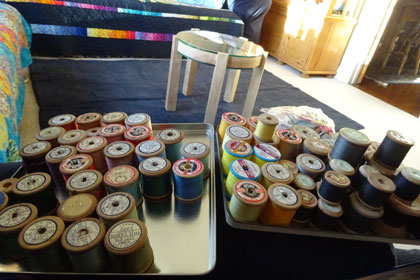 I had a lovely time on the afternoon of the 25th, arranging all the reels, and imagining their past lives. The Sylko threads have such fitting names. My favourites are 'elephant' and 'dark elephant', which are exactly the colours you'd think they'd be.
Amongst my collection I found some half-size Sylko reels, including one called 'khaki'. I'd never noticed this size before. The khaki reel had many 6" short lenghts of thread wound back around the reel, and I wondered whether it had belonged to a soldier who had thriftily kept all the leftover ends, just in case.


For those of you contemplating a 'digital detox' for the new year, I'd highly recommend the book below. One of the few books I've read that has real insight into the problems of our age, and how it doesn't have to be like that. There is a gem on almost every page.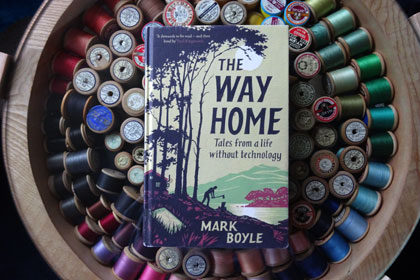 I'm glad that I never fell into the social media trap. I'm the last person I know who only has a non-smart phone. I'm also the only person I know who can happily spend an afternoon playing with old cotton reels.
But, I'm a Simple Witch and I prefer to make my own entertainment than to have it made for me.
Wishing you all the best for the next decade: may it be as simple or as complicated as you wish.
Thursday, December 26, 2019
Wednesday, December 25, 2019
Tuesday, December 24, 2019
Sunday, December 22, 2019
Wednesday, December 11, 2019
Friday, December 6, 2019
Tuesday, December 3, 2019
Friday, November 29, 2019
Thursday, November 28, 2019
Thursday, November 21, 2019
Sunday, November 17, 2019
Wednesday, November 6, 2019
Thursday, October 31, 2019
Tuesday, October 29, 2019
Monday, October 28, 2019
Friday, October 25, 2019
Saturday, October 19, 2019
Wednesday, September 4, 2019
Sunday, September 1, 2019
Wednesday, August 28, 2019
Monday, August 12, 2019
Wednesday, July 24, 2019
Tuesday, July 23, 2019
Wednesday, July 10, 2019
Thursday, July 4, 2019
Wednesday, July 3, 2019
Tuesday, July 2, 2019
Saturday, June 29, 2019
Monday, June 3, 2019
Wednesday, May 29, 2019