Sunday, August 13, 2017
Saturday, June 10, 2017
Friday, June 9, 2017
Thursday, June 8, 2017
Saturday, June 3, 2017
Sunday, April 16, 2017
Friday, April 14, 2017
Tuesday, April 11, 2017
Update
So, March disappeared.


I've fallen out of love with the internet.
A lot of the email that people send to me is bouncing. While that is a great advantage for the hundreds of unwanted emails I get each month from companies that I've bought from before, it is a huge problem for people who only know only one e-address for me.
Because I hate Google (and everything connected to it, including gmail), I use a couple of domains, that I've owned for almost 20 years, for email forwarding to a catch-all mailbox from whatever ISP I am using at any time. It saves having to change emails each time I change ISPs.
But, apparently some Russian spammers have been sending emails using adddresses from both of these domains as an alias (so, not sending it from them, but putting them in the 'sender' field to make it look as if their emails come from me). This has led to recipients marking them as spam, and some ISPs and some individual's adaptive spam filters then blocking/bouncing my emails.
Some email programmes don't have a 'whitelist' facility. I use Thunderbird and its 'adaptive spam filter' is switched on by default, and turning it off (which involves a great deal of searching in its bowels) seems to be the nearest I can get to fixing it.
But, if I don't know someone is having bouncing email problems, as they aren't able to tell me, I can't tell them to add me to their whitelist in order for it not to happen. If anyone has sent me email recently that hasn't elicited a response, please add me to you whitelist (or whatever your email client calls it) then try to resend. The address in the sidebar (*nods right*) shouldn't be affected, as (to the best of my knowledge) that hasn't yet been abused by those with no morality or scruples who can't be bothered to get a proper job. Tempting fate there, of course...
It makes me feel like just giving up email... and the internet... and I've been using the internet since it was invented. It just feels like a horrible exploitative place now.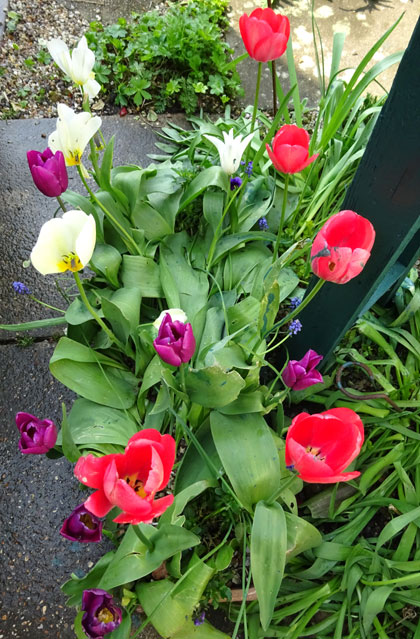 I've found a new way of making money by the way.
Given that banks and building societies recent interest rate cuts (particularly on regular savings and interest on current accounts) have cost us nearly £1,000 per year in lost bonuses, I have to find something, particularly given that the latest estimates are that inflation will hit 2.4% by the year's end..
In Small Local Town's out-of-town shopping park, there is an area that has a B&Q, a Halfords, a Pets at Home, and an M&S Simply Food. Parking is always very tight, so one can rarely park near to the shop one wants to visit.
I've discovered that people going to M&S to buy their overly priced, non-clean food (another current Term of Hate for me) ready-meals, or ready-peeled vegetables, are far too lazy to take their trolley back to the only M&S trolley park, so, they just leave them at whichever trolley return point is nearest to where their gas-guzzling-tank is parked. Clearly they are prepared to leave a pound in the trolley slot rather than walk 30 metres more to return it to the place where they could get a refund. I guess it's the 'what is the lowest value coin that you will bend down to pick up' test for the overly-monied of the area.
Quite by accident (I was spending the huge quantity of Pets at Home vouchers that I'd accumulated - their vouchers nest, so I got product worth over £70 for less than £30) I've made £4 in the past week just by noticing pounds in slots, plugging trolleys into each other and pushing them 30 metres. It isn't going to pay for the next trip to SA of course, but, every penny counts (if only I could get the coffee-slurping, eating-out, spend everything you earn and more, generation to understand that)...
I read with horror recently that only 10% of meals are now prepared from scratch in-home, that the average new garment is only worn five times, and that only half the adult population in England have more than £3,000 in savings. Always save at least 10% of your income I say, I've always said, and I still do. It gives you choices when you are older.
Here's a cat picture, from the kitchen window:


Or maybe that should be a 'spot the cat' picture. There are two of them actually.
Oh, OK, here's a closer view: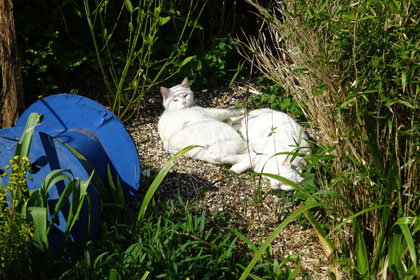 And we have eight new children. 2 white, 4 brown, and 2 brown, beige, and grey. That brings that total back to 18. We didn't get any new ones last year, and with most of the rest now 5 or 6, it was necessary if we wanted eggs after Easter.