Saturday, December 9, 2023
Friday, December 8, 2023
FOTCR™ minus 17
Mr BW took the opportunity of being South to meet up with his sister earlier this week, and they went together to see Mummy Mr BW's best friend, now in her late 80s. Despite being the illest of a group of friends who have known each other from the late 1950s when they all moved into a brand new housing estate as newly-weds at the same time, brought up their families together, and never moved, she is almost the last one standing. Which must be a very strange position to be in.
As the only person we now know who still has a daily paper, we are always glad to receive her old copies, as we need newspapers to line the hens' accommodation, and then enrich and speed up the compost heaps. We probably have 3 or 4 year's worth stocked up now, but what we will do when she is no longer with us, I don't know. There are only so many copies of Waitrose's weekly rag that one can stuff into one's bag, and they keep them under close control in the North. Plus we hardly ever go in Waitrose these days (they no longer send vouchers that make the stuff the same price as other supermarkets), and when we do it is often Not Free Paper Day.
Anyway, getting to the point of this story... the three of them were sitting having a cup of tea together, reminiscing about the old days, and bemoaning the decline in standards, the rise of consumerism, the increase in population, the ceaseless desecration of almost every green space by new housing, and our increasingly disposable society. Well, I am assuming that is what they were talking about as the script rarely varies during such encounters.
"I'm glad to pass on my old newspapers, and glad they will be useful to you!" said BFMBW. Everyone just throws everything away these days... for example, take darning socks, who darns socks now?"
Mr BW stretched out his besocked feet towards her... "Erm... us!" She peered closely and looked slightly amazed. I had told Mr BW to be sure to take socks without holes with him down south, but I forgot to specify, "socks without holes or darns".
I didn't used to darn socks, but times are hard, they don't recycle waste textiles up here, and Mr BW can make holes in any pair of socks in just a few days. Darning is quick, easy, and something useful I can do when I don't have the energy for anything else.
I suspect I am the only one here who is still darning socks, re-sewing underpants when they pull away from their elastic tops because they were so poorly made to start with, stitching buttons back on, and reworking unravelling hems or seams? But, I do have a separate "sewing room", where the sewing machine is always out and supplies are plentiful and easy to get to. If I didn't, I probably wouldn't, IYSWIM.
Just thinking, when Mr BW is able to mend household objects or appliances that break, fall apart or otherwise cease to function, most people would think that is great and admire his skills. When I mend textile things in similar state, I suspect that people are most likely to think that I am slightly eccentric. Why?
In similar vein, yesterday Little Mobile Library Van Man handed me the library books I had requested with a wry smile: 'Live your best life', 'Move to the middle of nowhere to thrive', 'Eat weeds', 'How to renovate your tumbledown animal barn into a house in a weekend', 'Resilience in the face of political madness and war', 'Brave Old World', 'Preparing for Armageddon', 'How to live on 50p a week' and 'How to be free'. Some of these may be made up.
"I've no idea why you need these, you could write them!"
I smirked back, "Yeah, but it's more fun seeing what others do, or suggest, and thinking what amateurs they are in comparison!" He shook his head. "You two are amazing, what you have achieved here..."
I showed him the recently finished kitchen, with built in poppadum rack (to fill an unused wasted space above the 'magic corner' unit), a full-length cup shelf made out of an offcut of kick-board, a built-in rack for rolls of foil and baking parchment, a beam over the Aga made from a piece of distressed timber rescued from the skip last year, and an edge strip at the back of the sink so washed chopping boards and trays can stand to drain behind the tap. All planned, designed, sourced and done by us.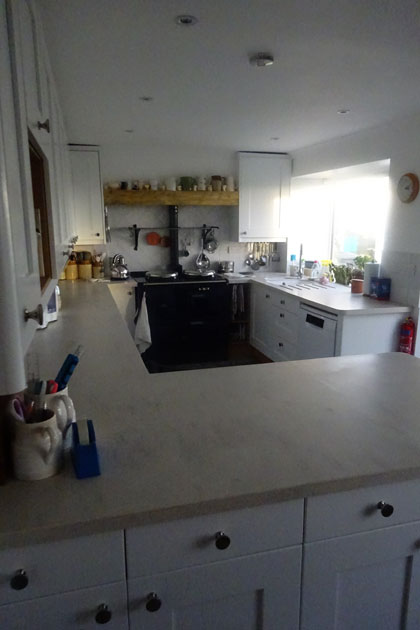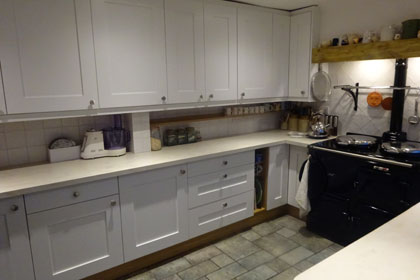 "You're one of only two people besides us who has seen the transformation of this old house, over the past three and a half years, fortnight by fortnight, as it happened," I said. "And listened to all the trials and tribulations, so thank you for all your support, even the time when the front was out of the house and you said it was more of a bombsite than Afghanistan on your second tour!"
"There was one thing that always struck me," he said, "and that was however much was going wrong, however many of your trades were not turning up when they should, and however frustrated you were with all their excuses, all their shortcomings, all their claimed lack of materials, and all the times when you had no water, or orange water, or no electricity, and the constant mess everywhere, and the amount of perfectly good stuff the builders were wasting, or how many of your coffee mugs they were breaking or losing, you always kept the faith and always believed in the project and that it would be OK in the end."
And that's true.
"What's your secret?" he asked.
"What do you think?" I replied.
He looked thoughtful. "Honestly... I don't know."

"It's Mr BW!" I said.
(Talking of whom, he says he will post the number of bags of leaves he's collected in Wednesday's comments below just as soon as he's patched up the pipe on the old Dyson that has just fallen apart as he was cleaning up ready to leave tomorrow).

For comparison, here's a picture of the original kitchen (then 20 years old) 3 weeks and 3 van loads after we moved in:


You can't really see how battered and grotty it was. By the time we removed it in September, it was literally falling off the walls.

Thursday, December 7, 2023
Wednesday, December 6, 2023
Tuesday, December 5, 2023
Monday, December 4, 2023
Sunday, December 3, 2023
Saturday, December 2, 2023
Friday, December 1, 2023
Thursday, November 30, 2023
Saturday, November 4, 2023
Friday, November 3, 2023
Wednesday, November 1, 2023
Tuesday, October 31, 2023
Saturday, October 28, 2023
Friday, October 27, 2023
Tuesday, October 24, 2023
Saturday, October 21, 2023
Friday, October 20, 2023
Thursday, October 19, 2023
Friday, October 13, 2023
Thursday, October 12, 2023
Wednesday, October 11, 2023
Tuesday, October 10, 2023
Saturday, October 7, 2023
Saturday, September 30, 2023
Thursday, September 28, 2023
Tuesday, September 26, 2023
Sunday, September 24, 2023
Sunday, September 17, 2023
Friday, September 15, 2023
Thursday, September 14, 2023
Wednesday, September 13, 2023
Tuesday, September 12, 2023
Monday, September 11, 2023
Sunday, September 10, 2023
Thursday, September 7, 2023
Tuesday, September 5, 2023
Monday, September 4, 2023
Sunday, September 3, 2023
Friday, September 1, 2023
Thursday, August 31, 2023
Wednesday, August 30, 2023
Friday, August 25, 2023
Friday, August 11, 2023
Wednesday, August 9, 2023
Tuesday, August 8, 2023
Saturday, August 5, 2023
Friday, August 4, 2023
Thursday, August 3, 2023
Wednesday, August 2, 2023
Tuesday, August 1, 2023
Sunday, July 30, 2023
Saturday, July 29, 2023
Friday, July 28, 2023
Wednesday, July 26, 2023
Tuesday, July 25, 2023
Sunday, July 23, 2023
Tuesday, July 18, 2023
Sunday, July 16, 2023
Thursday, July 13, 2023
Sunday, July 9, 2023
Thursday, July 6, 2023
Monday, June 19, 2023
Sunday, June 18, 2023
Tuesday, June 13, 2023
Friday, June 9, 2023
Monday, June 5, 2023
Sunday, June 4, 2023
Saturday, June 3, 2023
Wednesday, May 31, 2023
Sunday, May 21, 2023
Monday, May 15, 2023
Sunday, May 14, 2023
Saturday, May 13, 2023
Thursday, May 11, 2023
Sunday, May 7, 2023
Friday, May 5, 2023
Saturday, April 29, 2023
Thursday, April 27, 2023
Tuesday, April 25, 2023
Sunday, April 23, 2023
Sunday, April 16, 2023
Saturday, April 15, 2023
Thursday, April 13, 2023
Wednesday, April 12, 2023
Tuesday, April 11, 2023
Sunday, April 9, 2023
Friday, April 7, 2023